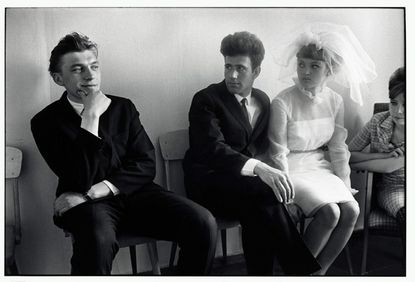 (Image credit: Elliott Erwitt/Magnum Photos)
Legendary Magnum photographer, Elliott Erwitt, has turned his witty lens on the world of Italian brand Tod's, with a series of black and white portraits for its 'Icons by an Icon' project, currently showing in its store windows.
The 40 images show cosmopolitan families from Europe and the US wearing Tod's classics, including its Gommino and Ballerina shoes and the D Bag. The couples' dogs are equally well-heeled.
Inspired by the project, we thought it time to put our own focus on the veteran photographer with 20 seminal images from his back catalogue, courtesy of esteemed photography cooperative Magnum.
Born in France in 1928 to Russian parents, Erwitt joined the Magnum stable in the 1940s, alongside greats like Robert Capa and Edward Steichen. He cut his teeth as a photojournalist while in the army during the so-called Korean conflict of the 1950s, and for over 60 years has roamed Europe and America with his Leica in toe. 'Some people think I'm dead because I've been around so long,' he once said.
Erwitt's work often bears a stark political statement - more organic than contrived – and everyone from Che Guevara to Marilyn Monroe has been his subject. But he has always preferred photographing those with less expertise before the camera. This perhaps explains his fascination with dogs – the subject of one his many books.
Receive our daily digest of inspiration, escapism and design stories from around the world direct to your inbox
Malaika Byng is an editor, writer and consultant covering everything from architecture, design and ecology to art and craft. She was online editor for Wallpaper* magazine for three years and more recently editor of Crafts magazine, until she decided to go freelance in 2022. Based in London, she now writes for the Financial Times, Metropolis, Kinfolk and The Plant, among others.