A poetic new exhibition explores Cristóbal Balenciaga's use of black
'Balenciaga in Black' at Kunstmuseum Den Haag features works in black by Cristóbal Balenciaga, capturing the unnerving modernity of the late couturier's designs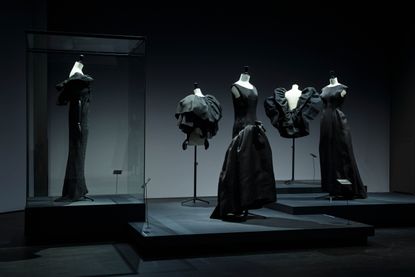 (Image credit: Mike Bink)
Wallpaper* Newsletter
Receive our daily digest of inspiration, escapism and design stories from around the world direct to your inbox
Thank you for signing up to Wallpaper. You will receive a verification email shortly.
There was a problem. Please refresh the page and try again.
The Kunstmuseum Den Haag is a fitting place for the first and largest ever showing in the Netherlands of the work of fashion's most revered modernist, Cristóbal Balenciaga. Realised in the 1930s by Hendrik Petrus Berlage, today the museum holds the biggest Mondrian archive in the world as well as an impressive dress collection. Despite their various disciplines, Balenciaga, Berlage and Mondrian were united in their passion for clarity and grace.
The exhibition 'Balenciaga in Black' – open until 5 March 2023 – explores the late couturier's reverence for the hue. Black encompasses all colours. It is direct and unobtrusive. In clear, mathematical terms, the show displays 65 haute couture pieces and a few toiles from the 1930s-60s, 57 photographs, sketches and drawings, six hats and five necklaces that are set across 15 rooms. Curiously, just outside of the entrance to the show, Henry Moore's abstract bronze Working Model for Knife Edge Two Piece from 1962 rests on a waist-high plinth informed by the shape and lightness of a bone fragment. With its arched angles and shadows, it echoes Balenciaga's sinuous clothes.
Balenciaga in Black at Kunstmuseum Den Haag, The Hague
Writing in The Guardian at the time of the designer's death fifty years ago, Alison Settle noticed a purity of line in Balenciaga's work that felt more akin to sculpture than to dressmaking. Attending one of his shows after the war she recalled: 'It dawned upon me, as the collection passed, that I was looking at works of art, a totally different conception of elegance.' Featuring pieces on loan from Palais Galliera and Maison Balenciaga, this exhibition forces us to study clothes away from the body and the humdrum business of seasons. Pieces kept flat in the archives are shaped and unveiled; the curators ask us to assess the works for their sculptural qualities. Anonymous mannequins and hushed lighting encourage serenity and reverence in the air.
The Netherlands has a long-held affinity with black. In the 17th century, Dutch noblemen and women were always depicted in different shades of the colour. In Spain, black is symbolic of a sense of liberation, which it came to represent after the people regained their independence after defeating the Napoleonic army in the 19th century. Black hints at Catholic piety too and the austere fashion favoured by the Spanish Habsburg court of the 16th and 17th centuries. Black was Balenciaga's identity and instrument.
Early designs, pencil sketched on graph paper, look like mathematical equations. Numbers are jotted next to X's and sharp dashes become shorthand for lapels and hems and cuffs. Laid flat in glass vitrines, black cotton pattern pieces with geometric coloured threads running through them evoke maps of star constellations. Partly finished toiles are studded with silver pins and handwritten notes in chalk. In black, even the knot of a bow in silk crepe satin appears to say more – it becomes crisper, more defined, more urgently tied. Taffeta radiates in black too; the gowns take on an even more operatic gesture.
In the middle of the show is an expertly placed jolt of uncanny beauty: a 1967 bias-cut silk gazar, four-pointed envelope dress with embroidered rhinestones and pearlescent beaded straps, which has been trimmed and hemmed with crin mesh ribbon. It is unnervingly modern. Totally classic. In this period, Balenciaga's research led him towards a deconstruction of traditional forms and the elaboration of increasingly abstract figures. It is a legacy that persists in artistic director Demna's hands. Look 48 from the house's 51st couture collection – a spikey faux feather embroidered dress in silk organza – ruffles the archive into a striking extremity of grandeur. Like the works on display, it is unforgiving and unforgettable.
INFORMATION
'Balenciaga in Black' is on view at Kunstmuseum Den Haag, The Hague until 5 March 2023
Receive our daily digest of inspiration, escapism and design stories from around the world direct to your inbox
London based writer Dal Chodha is editor-in-chief of Archivist Addendum — a publishing project that explores the gap between fashion editorial and academe. He writes for various international titles and journals on fashion, art and culture and is a contributing editor at Wallpaper*. Chodha has been working in academic institutions for more than a decade and is Stage 1 Leader of the BA Fashion Communication and Promotion course at Central Saint Martins. In 2020 he published his first book SHOW NOTES, an original hybrid of journalism, poetry and provocation.