Coast to coast: Australian-based Bassike launches store in LA's Venice Beach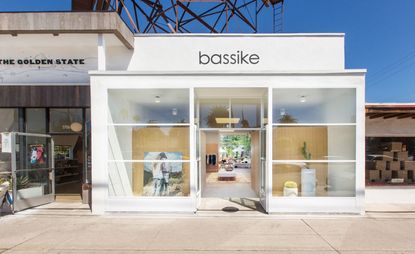 (Image credit: press)
A black circular inlaid mat marks the main entrance of Bassike (opens in new tab)'s new clothing and accessories store on LA's Lincoln Boulevard. Subtly referencing the brand's logo, it represents the very essence of its designs – simplistic, yet bold and distinctive wardrobe staples for women (with a capsule range for men and children).

Having translated the purist vision of the design duo Deborah Sams and Mary Lou Ryan for all their Australian stores, Sydney-based architect/designer Kelvin Ho, founder of Akin Creative, was a logical choice for the new outpost.

'Our brief was to create a relaxed and open plan interior with lots of natural light, opening up both ends onto Lincoln Boulevard and Superba Food + Bread in the courtyard,' says Sams.

As for location, 'the Venice community cultivates a really great blend of surf, skate, art, fashion, food and wellbeing, and as somewhat of a lifestyle brand, Bassike sits really comfortably in this type of environment,' adds Ryan.

Skylights and floor-to-ceiling steel-framed windows with glass doors at both entrances facilitate the flow of abundant sunshine within the white-walled 78 sq m space. A vista of saturated green foliage from the rear courtyard invigorates this fluid inside/outside feel, whilst injections of neutral colours contour the interior where organic cotton T's, shirts and pants, linen jackets with raw finishes and butter-soft leather pieces hang from rails rising from the polished concrete floor.

Despite its minimalist leanings, 'the store feels super comfy with lots of space and locally sourced elements to give it a more residential feel. It's a hangout,' adds Ho, who is renowned for his collaborative approach to projects in fashion retail, hospitality and the occasional residential build. He refers to working with LA-based BROOK&LYN, a creative studio founded by partners Mimi Jung and Brian Hurewitz, who are largely responsible for executing Bassike's fit-out and original pieces.

Sharing Ho's and the brand's focus on subtle luxury, their finesse lies in the choice of materials and their precise finishes. A central daybed with intricate slats carved from solid rift sawn American white oak rests upon a vintage ivory Moroccan rug with charcoal-like scribbles. Signature drop-crotch acid wash and faded denim jeans sit casually upon it among leather goods. Beside it, a large disc of milky white marble floats upon a clear base of bent glass half-cylinders showcasing bags and folded separates, whilst assorted hand spun metal planters powder-coated in a grey or white ceramic-like sheen sprout native cacti – again, drawing the outdoors in. Most eloquent is the seemingly random placement of a large chamfered mirror leaning against a wall, layered over a piece of meticulously cut Mountain Calacatta marble.

'Our short term plan is more stores in and around LA county,' Sams says with an air of quiet confidence. When and where will have to rely on Bassike instinct. Ho's current project involves animating the stage of the Sydney Opera House for a contemporary Australian Ballet production this November – his first foray into the performing arts arena that, naturally, also includes costume design collaboration.
ADDRESS
Bassike (opens in new tab)
1918 Lincoln Boulevard
Venice Beach
Los Angeles, CA 902191
VIEW GOOGLE MAPS (opens in new tab)