Class action: the fashion brands training tomorrow's artisans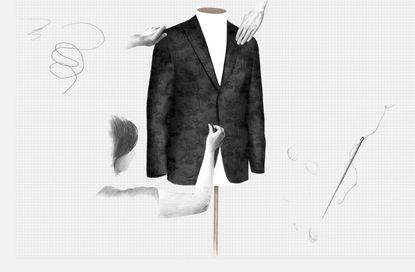 (Image credit: Tim Laing)
Wallpaper* Newsletter
Receive our daily digest of inspiration, escapism and design stories from around the world direct to your inbox
Thank you for signing up to Wallpaper. You will receive a verification email shortly.
There was a problem. Please refresh the page and try again.
Traditional fashion schools are in the business of producing the runway stars of tomorrow. Top-ranking education centres such as Central Saint Martins (CSM) in London, Parsons The New School for Design in New York and the Royal Academy of Fine Arts in Antwerp have had considerable success in forming famous fashion designers, include Marc Jacobs, Tom Ford, Christopher Kane and Raf Simons.
When they aren't churning out the next generation of headline fashion names, these institutions are busy schooling future design teams, who toil anonymously behind the scenes, not to mention the marketing, communications and business departments that support the creative endeavours.
What they don't do, however, is produce the next generation of highly skilled artisans. 'The primary purpose of our school is for the students to learn to develop their own creative design signature,' says Anne Smith, dean of CSM in London. 'They'll learn pattern cutting and garment construction to make their designs real, but often the technical skill is something we can't provide - particularly when it comes to leather goods and accessories.'
This is where luxury goods companies are keen to enter the picture. Over the last decade, the industry has seen a proliferation of company-run education centres, with labels such as Paris-based Berluti, Madrid-based Loewe, and Italy-based Brioni, Bottega Veneta, Kiton and Brunello Cucinelli setting up or fine-tuning their own in-house fashion schools.
In contrast to Fabrica, an early company-run school established by Benetton in 1994 that still teaches graphic design, product design, photography and communications, today's new entries are not hubs for creativity. They don't offer design classes, and their course work usually results in a diploma rather than a degree. Often housed on the site where the company's high-end leather goods or handmade suiting are produced, the schools take advantage of the huge pool of trained craftsmen working under the same roof to pass on to artisanal schools.
'Many of our master craftsmen have been with us for 50 years,' says Loewe CEO Lisa Montague, who established the 168-year-old company's first school in early 2013 at its production plant in Madrid. 'Now they are serving as teachers for our trainees to bring in true, new blood to the company.'
Loewe's school is purely focused on its leather craft (as opposed to its much smaller clothing business) and offers three courses to 20 students each, in cutting, preparing and assembling leather. So far, 80 students have completed the course (50 of whom have been hired by the company) and another 200 are expected to be trained in the next two years.
A fashion company harbouring a fashion school under its wings may seem like the kind of smoke-and-mirrors stunt engineered by a savvy public relations office. But the move to open schools is a direct response to a genuine, existential threat. 'There are areas of Europe where high-level craft skills are completely dying out,' remarks Smith from CSM. 'As one generation dies, there is no one to pass the trade on to.'
Unfortunately, over the last two decades, the globe-trotting, tech-loving teenagers who have entered the workforce have not viewed cobbling a pair of shoes together as particularly enticing. 'The point is to motivate young people to study this kind of job profile,' remarks Linda Loppa, the former head of fashion at Antwerp's Royal Academy and the current director of Florence's Polimoda International Institute of Fashion Design & Marketing. 'Normally parents tell their children to get into business or marketing. But now there's a panic that all the senior craftsmen are retiring or dying off. It's really an emergency for the industry.'
'For a maison that has such a long history of craftsmanship and a particular know-how, passing down skills is indispensable,' says Berluti's artistic director Alessandro Sartori, who started his career as a humble tailor. The signature patina on a pair of Berluti shoes, says Sartori, is an effect that can only be painstakingly achieved by hand and requires in-house expertise to be passed from one master to the next, a task now being fulfilled in the brand's two-year-old school in Ferrara, Italy. But it isn't just the leather goods industry that's witnessing the handcraft drain.
'Our breed of tailor was literally going extinct,' says Antonio de Matteis, CEO of the high-end Neapolitan brand Kiton, which established its school in 2000. 'There weren't many that wanted to do it, and even fewer that could do it.'
In their first year, Kiton faced difficulty recruiting even ten students. 'But now we have a waiting list to get in,' he reports proudly. 'We have a 100 per cent employment record for our students, which is one of the reasons we've become so popular. It's the greatest investment we've ever made.'
Though there's increasing demand for Kiton's classes, which have attracted students from as far away as Japan and America, the classes remain small. Twenty-five students are taught at a time, 80 per cent of whom have gone on to work inside the company.
At Brioni's headquarters in Penne, Abruzzo, the company has run a single, four-year course entitled Operatore dell'abbigliamento (a bespoke training course) for 18 students since 1985. Taught by two master tailors and nine teachers, the curriculum includes classic subjects such as maths and history, but is focused on the craft of tailoring, where 220 manufacturing steps are required for a single suit. Brioni also boasts a near 100 per cent hiring rate of graduates, a refection of the desperate need for highly trained tailors.
'There's actually a real dearth of courses that train technicians [in traditional fashion schools],' says Smith. Schools like Polimoda and CSM do offer pattern-cutting courses (the graduates from which are some of the most keenly pursued by fashion companies in desperate need of technically savvy employees), but these are focused on women's clothing construction. The majority of shoe and handbag construction requires the machinery and setting of a real, working factory.
Companies such as Bottega Veneta have come to the rescue with schools that offer on-the-job education. Since its opening in Vicenza in 2006, Bottega Veneta's school has partnered with IUAV, the Venice university, to allow fashion students to witness designs being produced and receive on-site training. The school recently moved to the company's new atelier in Montebello Vicentino and has plans for expansion next winter.
Brioni has also collaborated with menswear students at London's Royal College of Art since 2007 to help them develop and realise their designs, which are then put on the runway in a sponsored competition.
Meanwhile, Brunello Cucinelli has taken an even broader approach. It opened a Craft School in Solomeo, Italy, last year (adding to its Aurelian Neo-humanistic Academy and Cucinelli Theatre) where 100 students, all under the age of 27, study five hours a day for one year. Alongside tailoring, disciplines including masonry, farming, furniture-making and gardening are taught, as well as embroidery and knitting, which benefit the cashmere company. The goal, however, is the same: 'It's the preservation of the artisan,' says CEO Brunello Cucinelli. 'I'm interested in trade-crafts in general because they are all disappearing.'
At the end of the programme, students receive a diploma and have the opportunity to work for Brunello Cucinelli's company or its foundation, which underwrites architectural, cultural and agricultural restorations throughout Italy.
Apart from preserving precious skills, these programmes have the added bonus of boosting local communities and industry at a time when Spain and Italy are still struggling with stagnant economies.
'We have a big unemployment problem in Spain,' remarks Loewe's Montague, who works with Madrid's public unemployment office to recruit students. 'We'll never resolve it single-handedly, but all of us can play our part.' So far, the company has received 600 applications for its School of Leather Artisans, all from Spanish residents, and has plans to create 150 jobs before 2015 from newly trained students.
Paris-based Berluti opened its Academy of Know-How in March 2012 in Ferrara, Italy, an area known for its dismal 12 per cent unemployment rate. In its first two years, during which time the area suffered a debilitating earthquake, the school received 2,500 applications and accepted 111 students for the 400-hour training programme. Seventy students have been hired by the company so far.
Bottega Veneta hosted two victims of Japan's tsunami in 2012 at the school, giving free room and board in addition to classes on leather cutting, pattern making, weaving and prototyping in the company's workshops. Unlike regular institutions, where fees can amount to €30,000 a year, most company-run schools, such as Brioni, Berluti and Bottega Veneta's, are free of charge. Places at others, like the schools of Kiton and Brunello Cucinelli, operate like apprenticeships in that the companies actually pay students a small stipend.
The investment is well worth it. 'Italy has always had excellent artisans and craftsmanship,' observes Brioni's CEO Francesco Pesci. 'It's something related to the blood of this nation. We need to safeguard any form of tradition and to do this we have to invest in the training of young talent,' he continues. 'We cannot allow for a generational gap.'
Receive our daily digest of inspiration, escapism and design stories from around the world direct to your inbox