Royal College of Art graduate fashion show 2013: the highlights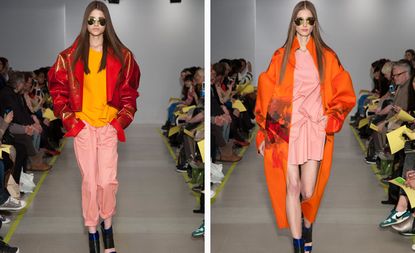 (Image credit: TBC)
Of the young fledglings that fly the Royal College of Art's MA Fashion nest, 95 per cent gain employment in the industry - and that's no figure to be sneered at. One only has to look at the careers of its alumni - the likes of Christopher Raeburn, Eudon Choi, and Holly Fulton, for instance - to know that success, while not guaranteed, is well within reach. This year's creative coop, in particular, bred some notably fine specimens.

'The collections have a really strong sense of texture, with students using weave and collaborating with other textile students,' said Wendy Dagworthy, the college's Head of Fashion, reflecting on the 33 collections that were debuted on the catwalk, spanning across Menswear, Womenswear, Knitwear and Millinery. Sculptural, oversized silhouettes were a big theme, as were interesting textile propositions and new fabrications - non-slip matting and experimental dyeing, for instance. Womenswear Knitwear designer Xiao Li executed her pastel-flavoured voluminous coats and jumpers with flourish, while Ana Del Pinal Saenz added oomph to her billowy silk kimono outfits with latex panels.

In Menswear, many students were influenced by social and political issues. A strong contingent offered solid traditional tailoring infused with modern shapes. Ike Rust, Senior Tutor, Menswear, noted that 2013's Menswear offering was about excess, luxury and subversion. 'Whether the story is fabulous favelas, brutalist architecture, vatican hooligans or the Kkangpae, fashion is in meltdown, everything is fucked up and out of the mess comes absolute beauty.' From the elegant all-grey looks that Lorna Bilsborrow sent down her catwalk, to Liam Hodges' outlandish collection of layered street-wear, there simply was something in the mix for everyone.

RCA's MA fashion students do of course have the added advantage of being postgraduate veterans with BA degrees firmly under their belt, and this manifested itself in the polished, assured ideas at play on the catwalk. 'Technique is key within the Womenswear collections this year,' said Senior Womenswear Tutor, Tristan Webber. 'Attention is focused on evolving fabrics and finishings, that are both innovative and diverse, answering questions of newness, providing new concepts of luxury, whilst investigating rituals of dress which range from the strategically modular to the randomly intuitive.'

Brioni and Royal College of Art once again joined forces for the sixth year, with Brioni's creative director Brendan Mullane setting the bar high with the sartorial theme, 'Lounge Suit'. The tailoring project tasks first year menswear students with creating an item of men's clothing in exchange for access to the Italian tailoring brand's master tailors. This year, the jury panel, which included Wallpaper's very own fashion director Isabelle Kountoure, awarded its highest plaudit, the Brioni award, to Dan Prasad, with the Tailoring award being given to Ellen Pedersen, and the Creativity award being won by Sungbin Cho.