Christopher Raeburn's Festival Ready project for Victorinox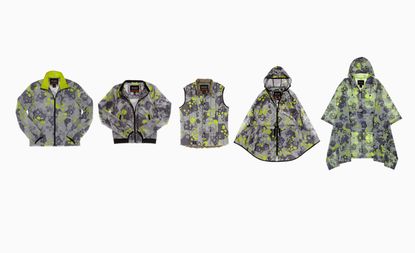 (Image credit: Christopher Raeburn)
He was only recently named creative director of its fashion division in January, but already Christopher Raeburn (opens in new tab) is putting his stamp on Victorinox (opens in new tab). The London-based designer, known for his functional, sportswear-influenced designs and re-appropriated military fabrics, has created a bright camo-printed capsule collection just in time for the festival season, complete with tents, capes, ponchos and bags.

Named 'Festival Protect', the limited-edition range of 11 pieces is part of the brand's 'Festival Ready' concept, which also sees a modern-day urban 'survival' smartphone app - using GPS signals to guide users through festivals - being launched in tandem. The collection is a welcome reunion for the two brands - Raeburn was first commissioned by Victorinox a few years ago to create its Remade in Switzerland capsule collection for A/W 2011.

Produced in bold neon camouflage print, the limited-edition range is available from the 'pop-up' Victorinox X Editions e-boutique (opens in new tab) in the UK. It includes a men's poncho and women's capelet, together with festival staples like the rucksack, which comes with a breathable mesh backing and packs into a compact carrying case. Camping essential, the Swiss Army Knife, has been given Raeburn's distinctive take on Victorinox's cross and shield logo. Meanwhile, also in the mix is the Protect Technical Tent, a recycled poly ripstop nylon two-person tent that has been produced in collaboration with UK-based outdoor equipment specialists Sprayway (opens in new tab).

In keeping with the ethos that Raeburn is known for with his own eponymous label - creating ethically-aware, design-led clothes - the environmentally-friendly range is made from high specification recycled nylon fabrics, so that it protects both the wearer and the environment.

Designed as a festival companion, the 'Festival Ready' app echoes the multi-functional spirit of the Swiss Army Knife, allowing users to navigate, locate and pin friends' tents, performance stages, as well as access packing tips. Users will also be able to convert their phone into a torch and use their device as a personal on-the-go safety alarm.