Chanel pop-up boutique, Cannes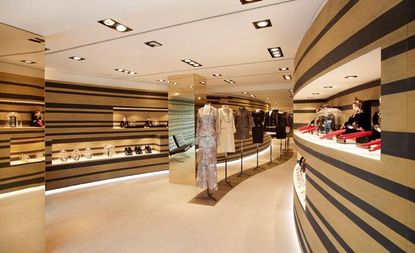 (Image credit: Chanel)
Pop-up shop concepts may have sprung up from humble beginnings, but there isn't a trace of cardboard or makeshift furniture in sight at Chanel's new ephemeral boutique in Cannes.
Cosying up to the brand's existing store on Boulevard de la Croisette, the 300 m² unit comes complete with indulgences that include golden mosaic-tiled walls, a dedicated make-up bar, nail bar, and as a nod to the impending festival - an exhibition space of Chanel gowns and suits previously worn by actors, together with a private lounge on the first floor with views of the red carpet leading up to the Palais des Festivals.
Back for the second summer in a row, the pop-up was inspired this year by the jewellery from the house's S/S 2011 ready-to-wear collection, so an ensuing interior colour-block of sun-bright golden hues interspersed with black flows throughout the space.
Available exclusively at the store, are the limited-edition Camèllias made by Lemarié (in bronze and muted gold lambskin) and pieces from the new Paris-Byzance collection - part of the house's recently unveiled cruise collection.
ADDRESS
Chanel
6, Boulevard de la Croisette
06400 Cannes
France