Athletics Footwear: the trainer brand turning out new classics
Athletics Footwear launches its second trainer design: the One.2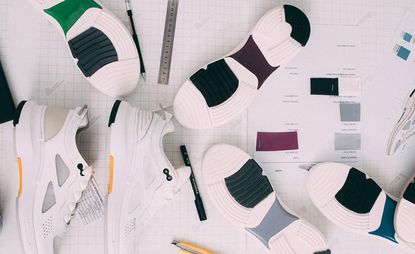 (Image credit: athleticsfootwear.com)
'The best example I can give you is the original 1963 Porche 911,' says Athletics Footwear co-founder Chris Kyvetos, of the design DNA intrinsic to the recently launched trainer brand. 'Its shape was drawn in the 1950s, and its outline has never really deviated from the original. The design just gets advanced all the time.'

Subtle evolution in design is integral to the launch of the brand's sophomore trainer release, the One.2. The style is a counterpart to the brand's debut shoe, the One, a pared-back, construction-focused silhouette and a future design classic. Athletics Footwear spent two years developing the original shape with an industrial designer, working as Kyvetos explains, 'to wrap the shape in a skin and keep it as clean as possible.' The One.2 has been updated with a heavier snubbed toe shape, paneled mesh inserts and perforation zones on its matte PU upper, a double lacing eyelet in a trio of vibrant tones and a caramel synthetic heel pull.

'Based on the ethos of the Porche 911, we're taking forward the design of the shoe but not taking away from its original purpose and brand message,' adds London-based co-founder Myles O'Meally. Athletics Footwear is based around the concept of fuss-free design with an equally hype-subverting marketing message. 'I'm interested in how things are made, the construction of something and how it performs,' he adds.
If anyone has the credentials to create a desirable product that doesn't revolve around a consumer frenzy-inducing marketing campaign it's footwear industry veterans Kyvetos and O'Meally. Kyvetos is the founder of Sneakerboy, the 2013-founded trainers-focused e-commerce and bricks-and-mortar retailer, which has try-on-only outposts in Australian cities including Sydney and Melbourne. Sneakerboy bought sports and luxury brands under one retail umbrella in a boundary breaking way, at a time when both sectors were seeing the brand benefits of collaboration.

Meanwhile, O'Meally – who has a background in design engineering – cut his teeth at Nike, and developed the soles and uppers for the brand's performance and lifestyle divisions, while operating, in part, from Ho Chi Minh City in Vietnam. He also developed the styles in Virgil Abloh's renowned 2017 collaboration 'The Ten'. After leaving Nike, O'Meally founded the product creation company Areté in July 2019, which works to aid luxury brands in the development of footwear. Through Areté, O'Meally has worked with McQ Alexander McQueen and Filling Pieces and he also developed Raf Simons' much acclaimed debut footwear collection, which launched in January 2020. 'I was exposed to a whole new range of references working with Raf,' he says. 'It really expanded my thinking'.

For now, Athletics Footwear's focus remains positioned on the design elements of its latest release. The homepage of the brand's website simply features a flat upper of the One.2, while its Instagram profile is peppered with construction and sampling shots. Despite a pared-back brand image, both O'Meally and Kyvetos remain enraptured regarding the annals of sneaker history. The brand's team spans Europe and includes Neil Beeson as its Managing Director. In the Nineties, Beeson oversaw the first ever collaboration between a fashion label and a sports brand: Puma and Jil Sander. 'Sander called Neil after she saw some Puma football boots and wanted to put them in her upcoming fashion show,' Kyvetos says. 'It's a legendary story'.
INFORMATION
athleticsfootwear.com