Agnes Martin's grids grace the Guggenheim and a COS collection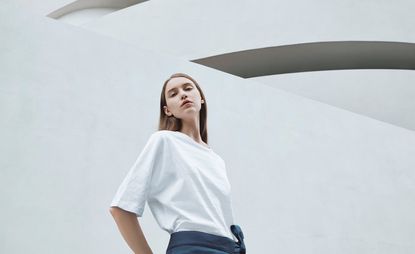 (Image credit: press)
Agnes Martin is making a triumphant return to New York. The first American retrospective of the artist's work since her death at age 92 in 2004, and her first comprehensive survey in two decades runs at the Guggenheim now, until 11 January 2017.

The exhibition – now on its final stop after first appearing at the Tate Modern in London, and moving on to the Kunsthammlung Nordrhein-Westfalen in Dusseldorf and the Los Angeles County Museum of Art – will feature over eighty of the artist's canvases, filling the Frank Lloyd Wright-designed rotunda. The show will feature about twenty additional works, following her career from its beginnings in the 1950s when Martin – who was born in western Canada – decided to become an artist at age thirty, moving from New Mexico to New York after she was discovered by artist/gallerist Betty Parsons. There, she frequented the same circles as artists Robert Indiana, Ellsworth Kelly and Barnett Newman. The exhibition ends with the final paintings she created in New Mexico.

While Martin closely associated herself with Abstract Expressionists like Ad Reinhart and Mark Rothko, her own style was more akin to the Minimalist movement. Lines, grids and subtle colours became the predominant motifs in her work. In the 1950s, Martin worked more with oil paints, creating abstract works filled with asymmetrical, nonsensical shapes, like in the painting Mid Winter (c1954), before she developed her signature, repetitive style, as seen in Buds (c1959), a series of yellow dots on a beige background.

From then onwards, Martin's seemingly delicate approach to repetitive curves and dots begins to mature, becoming a major theme in her work until the end of her career, when she used acrylic more, painting lightly coloured stripes and geometric shapes onto canvases. But don't assume that the repetitive nature of the work is what Martin was all about. 'While on the surface they look like they're about being the same, they really require you to notice that they're about difference,' said Guggenheim curator Tracey Bashkoff.

To support the Agnes Martin Foundation, COS developed a 12-piece capsule collection inspired by the artist's estate, turning her grid-like patterns into prints, using the same neutral color palette as the artist.
INFORMATION
'Agnes Martin' is on view until 17 January 2011. For more information, visit the Guggeheim website (opens in new tab) or the COS website (opens in new tab)
Shot on location at the Solomon R Guggenheim Museum, New York
ADDRESS
Solomon R Guggenheim Museum
1071 Fifth Ave
New York
NY 10128
VIEW GOOGLE MAPS (opens in new tab)