agnès b.'s art gallery La Fab opens in Paris
The French-born designer and art collector is swapping her gallery on rue Quincampoix for La Fab, a new space on the vibrant 13è arrondissement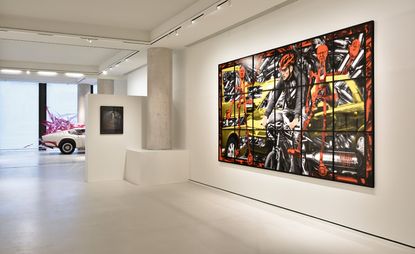 (Image credit: Rebecca Fanuele)
'I couldn't be happier; this is a dream come true', says a gleeful agnès b. who, after writing little messages on the columns of her brand new art gallery La Fab (the building is located right over a buzzing Metro and RER rail system), is now sitting in a diaphanous off-white room full of David Lynch, Kenneth Anger and Harmony Korine photographs. They're all for sale, just as they were back in her central gallery on Rue Quincampoix, which she originally opened in 1984.
The designer's new 1400 sq foot space also holds part of her personal collection, which counts more than 5000 works of art, from the likes of Basquiat, Gilbert & George, Nan Goldin, Diane Arbus, Martin Parr and Helen Levitt.
'I finished hanging all the pieces up last night at 4am', she says. 'Obviously there's a lot more, so the collection will change every three to four months, each time with a different theme. This first one is titled 'Boldness' and it's a concept agnès b. knows well: the 79 year-old debuted a career in fashion at 21 ('I was divorced with twins and no income. I needed some direction', she volunteers), but her true calling was always in art.
And politics, one could argue. Always close to the left, she is a vocal advocate of wealth redistribution and the power of collective efforts. On top of a gallery, museum, bookshop and performance space, La Fab is a fellowship fund. And one that will bring a new energy to the 13è arrondissement, a working class neighbourhood renewed five years ago with a sustainable urban development project, slowly but surely becoming buzzy thanks to other collective projects such as the Bibliothèque François Mitterrand and the food market La Felicità. 'At the end of the day, art is about sharing', says the designer. 'I want as many people as possible to see these works'
INFORMATION