Shape shifter: Ace & Tate gives its Munich store a whole new perspective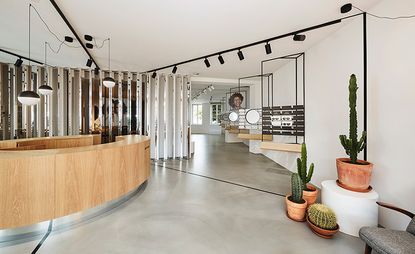 (Image credit: press)
Hot on the heels of Ace & Tate's Berlin store opening, the Amsterdam-based eyewear brand drives its German expansion forward with a new outpost in Munich. For its sixth store, Ace & Tate called in design duo Tina Bunyaprasit and Birgit Kohlhaas – otherwise known as Weiss-heiten – to bring the brand's retail concept to life, which has unique iterations across its growing number of European locations.

The multi-disciplinary designers oscillate between interior design, architecture and visual communication, and for this space they integrated elements of illusion and perception – interestingly, under the musical spell of Guns N' Roses album Use your illusion.
Playing with our sense of perspective, black frames are placed at different angles within the extremities of the space, dividing the shop floor into optic partitions, while a vanishing point guides the gaze. Behind a curved wooden customer desk, mirrored panes provide fragmented glimpses into an adjacent room. In that mirrored corner, the furrowed and ridged edges of spiked succulents are reflected fragmentarily.

The store has an almost surrealist feel as a result of these interventions, which sit in contrast with the untouched exterior of the heritage building and the laid-back entrance area, which is reserved for relaxation.

But Ace & Tate also keeps things familiar. The shelving that carries the eyewear is designed by New Tendency – the firm behind the eyewear brand's Berlin store – and, what's recognisable for locals, the Munich-based graphic artist Gabe has put his stamp on the store with a neon light installation that can be interpreted as either a guitar or an abstracted female form. It all depends what view you take.
INFORMATION
For more information, visit the Ace & Tate website (opens in new tab)
ADDRESS
Gärtnerplatz 1
80469 Munich
VIEW GOOGLE MAPS (opens in new tab)