Dutch cool: New Tendency designs Ace & Tate's new flagship store in Berlin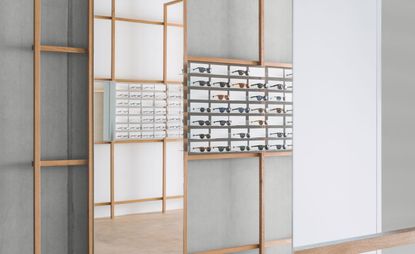 (Image credit: Jonas Lindstroem and Amos Fricke)
A contemporary face of Bauhaus can now be seen in Mitte, Berlin's most creative and fashionable district. New Tendency – one of Germany's most sought after young design studios, which made its name by bringing back the essence of the hugely influential design movement in the early 20th century – has designed the Dutch eyewear brand Ace & Tate's flagship store in the city.

A graduate of the Bauhaus University in Weimar, studio co-founder Manuel Goller says: 'People often refer to the Bauhaus as rational and constructive but I am really inspired by the poetic and spiritual tone of it as well. Contemporary design should be more than just functional and efficient; it should also tell its own story.'

The Berlin flagship is the result of an abundance of know-how accumulated by both the studio and the brand during two years of designing more than a dozen pop-up stores in both the Netherlands and Germany. The 130 sq m store has been created based on Bauhaus principles – to create an accessible, but well-conceived space. Retail destinations should have a bold identity believes Goller, and for Ace & Tate he has chosen a contrast of materials, from the warmth of oak wood to more austere laser-cut, powder-coated steel. The modular structure that the studio uses for many of its furniture designs – where steel is a large component – has been extended here, offering the store the flexibility to expand its displays without the need for complete renovation. In addition, the steel components can be changed to different colours to coordinate with different seasonal promotions.

'The design also refers back to the great Dutch constructivists like Piet Mondrian and Gerrit Rietveld and to the brand's roots in Amsterdam.' says Goller.

Launching together with the retail concept, New Tendency has also designed a limited edition of unisex sunglasses and a storage device for its Spring/Summer collection. The classic shape of the glasses frame belies a clever use of light and shadow, which can make it look delicate or sturdy depending on the angle. The round lenses contrast with sharp edges, and reflective temples complete the contemporary look. The frame is available in a matte- or polished-black finish. The Japanese-inspired 'Bento' storage box is designed as an addition to the studio's signature META side table, complementing the store's wood and metal decor, to house sunglasses or other style essentials.
INFORMATION
For more information visit New Tendency's website (opens in new tab)
Photography: Jonas Lindstroem and Amos Fricke
Yoko Choy is the China editor at Wallpaper* magazine, where she has contributed for over a decade. Her work has also been featured in numerous Chinese and international publications. As a creative and communications consultant, Yoko has worked with renowned institutions such as Art Basel and Beijing Design Week, as well as brands such as Hermès and Assouline. With dual bases in Hong Kong and Amsterdam, Yoko is an active participant in design awards judging panels and conferences, where she shares her mission of promoting cross-cultural exchange and translating insights from both the Eastern and Western worlds into a common creative language. Yoko is currently working on several exciting projects, including a sustainable lifestyle concept and a book on Chinese contemporary design.