In the studio with Copenhagen knitwear brand A Roege Hove
To mark fledgling knitwear label A Roege Hove's second show at Copenhagen Fashion Week, we take a virtual tour of the brand's studio, one brimming with craft-and-female-form-celebrating rib-knit creations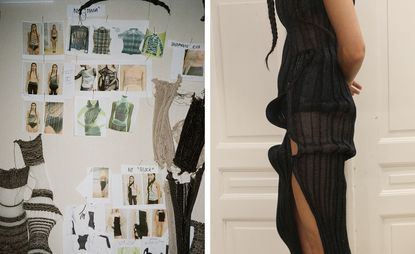 (Image credit: Images courtesy of A Roege Hove)
'Shall I go on vacation, or shall I just knit more?' was the question that Copenhagen-based Amalie Røge Hove asked herself in the summer of 2019. Hove chose needles and yarn over getting #OOO, moving her knitting machine out of her living room at home into a studio space, and creating sculptural and stretchy ribbed-knit totes that would form the foundation of her fledgling brand, which has evolved over time to embrace not just the bag but the body.
Speaking on Zoom just over a week before her second, A/W 2022 womenswear runway show at Copenhagen Fashion Week, which took place today, 2 February 2022, at the O—Overgaden Institute for Contemporary Art, Røge Hove was excited about the prospect of fitting her ribbed-knit designs. Evolving in a continuous dialogue each season, they span delicate tube dresses, spiderwebby vests, 'curtain reveal' cardigans and keyhole-detail roll-necks. 'The clothes work so well on so many different body types,' she says. 'The joy of a show, rather than a photographed lookbook, is that we can work with lots of different women.'
A Roege Hove: 'It's all about two needles'
Before starting her label – which now operates with a small team of six – Røge Hove spent two-and-a-half years as the knitwear designer for Cecilie Bahnsen, a brand known for its ethereal, intricately crafted silhouettes, such as voluminous dresses that lace around the body, and chunky jumpers, accented with romantic oversized bows. 'It felt nice being brave enough to try,' she says of forging her own creative path, one soon hindered by the restrictions of the Covid-19 pandemic, like shuttered factories, stunted manufacturing and travel restrictions.
But running a recently launched label during the pandemic – and not seeing physical pieces shipped to customers until 2021 – gave Røge Hove a chance to 'enjoy the resulting silence' and question normalised methods of production and sales. The designer searched for a suitable factory to manufacture her creations, which are first sampled on knitting machines in her studio, finally finding a partner in Ireland. 'Some factories told me, "We aren't going to make your pieces, they aren't going to sell!"' she says.
A Roege Hove pieces are stocked by a range of luxury boutiques across Europe, Asia, the US and Canada, including Browns, Henrik Vibskov, Beams and Ssense. 'Amalie's technical prowess in creating sexy and slinky knitwear is second to none,' says Ida Petersson, buying director at Browns. 'There is a playful and provocative edge to her creations as they explore the fine lines between clothing and skin, incorporating form-fitting silhouettes and semi-sheer details. Her designs really celebrate the female form. We have no doubt that this next collection will inspire and enthral us once more.'
For Røge Hove, it's integral to celebrate knitwear as a craft to be preserved. 'Our factory in Ireland is largely operated by men of a certain age,' she says. 'On a research trip to Shanghai, I discovered a knitting machine that could only be operated by one person.' The label's pieces are constructed using a nylon cotton rib, seductive, flattering and form-fitting, which can be manipulated to alter shadow, depth and tone. A Roege Hove is one of a number of innovative emerging labels approaching knitwear as something that is figure-celebrating rather than form-covering, alongside the likes of Chet Lo, Christina Seewald and Katya Zelentsova.
'It's about opening up a universe around a craft,' Røge Hove says. 'For textiles geeks like me, it's all about two needles.'
INFORMATION
aroegehove.dk (opens in new tab)