With Noon, the future of brain health may be as simple as drinking your morning coffee
Noon is a new brain health supplement that uses nootropics to improve focus, mood and sleep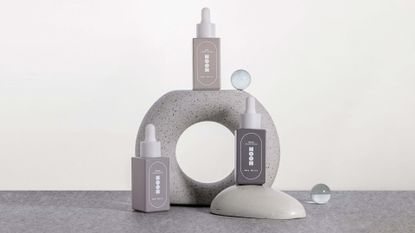 (Image credit: Noon)
Noon is a new line of three tinctures – Rise, Relax and Renew – that uses nootropics, boosted with adaptogens, and 300 to 900mg of CBD with the intention to trigger clearer, calmer thinking and improve cognitive function in the long run.
The brand was founded by three childhood friends who grew up to become a neuroscientist, a graphic designer, and a mother, respectively. Having all been raised in households that practised Chinese wellness traditions, and all feeling equally exhausted by their demanding lifestyles, the friends decided to pool their knowledge of traditional Chinese medicine (TCM) and their individual talents to create Noon.
Noon nootropic tinctures
The three nootropic tinctures are designed, variously, to improve focus and productivity without jitters (Rise); elevate mood (Renew); and provide deeper, more restful sleep (Rest).
All of them are water-soluble (so they can be added to a glass of water, morning coffee, or evening tea) and formulated with 'CELLg8' nutrient-delivery technology that makes absorption by the body 15 per cent faster than with most CBD tinctures and edibles. The idea is that each tincture can easily be incorporated into your day as you need it.
What are nootropics?
But what are nootropics? Well, chances are you already take them every day. Caffeine is the most common nootropic, along with nicotine, L-theanine (commonly found in tea), ADD medications such as Ritalin and Adderall, and a variety of other natural or synthetic substances.
Noon uses a range of plant-based nootropics combined with various doses of CBD for each of its three blends. For instance, Rise uses: rhodiola rosea root, an antioxidant believed to alleviate fatigue and help the body react better to stress; goji berry, an antioxidant used to increase energy levels; and green tea, to increase alertness.
The Renew tincture uses lion's mane mushroom, an extract that's rich with beta-glucans, taken to benefit immune, digestive, and heart health; ginkgo biloba leaf, an antioxidant-rich herb used to reduce anxiety and boost memory; and bacopa monnieri, a neuroprotective herb taken to boost concentration.
Relax, meanwhile, combines tension-relieving herbs such as valerian root and passionflower, with ashwagandha root, intended to help with healthy sleeping patterns, and a heavy dose of CBD.
'For all of our Nootropic Drops, you can feel the effects within minutes,' say Noon founders Jane Wong, Cherie Lui and Christine Wong. 'We've had customers describe the feeling as "feeling sparkly" or experiencing "a subtle wave of calm". The experience is very personal and can be adjusted for desired effect.'
It is their belief that 'taken daily, nootropics can have long-term health benefits related to cognitive function, including improved concentration and memory, balanced mood and richer quality of sleep'.
As with every supplement, the effectiveness of Noon will vary from person to person. Personally, I've been taking Rise drops as an added booster to my everyday coffee when I need help concentrating and it's worked every time. I've also tried the Rest drops before bed, and have been waking up less in the middle of the night. Whether this is down to the drops is hard to say, but for anyone looking to explore the potential of nootropics, Noon is definitely worth a try.
noonlife.co (opens in new tab)
0
Beauty & Grooming Editor
Mary Cleary is the Beauty & Grooming Editor of Wallpaper*. Having been with the brand since 2017, she became an editor in February 2020 with the launch of the brand's new beauty & grooming channel. Her work seeks to offer a new perspective on beauty, focusing on the pioneering personalities, product designs, and transformative trends within the industry.