Vivienne Westwood's iconic corsets to go on display in London
'Vivienne Westwood Corsets – 1987 to Present Day' (8 May – 21 May 2023) will run at the brand's Conduit Street store as part of London Craft Week, showing how the late designer subverted traditional corsetry across her career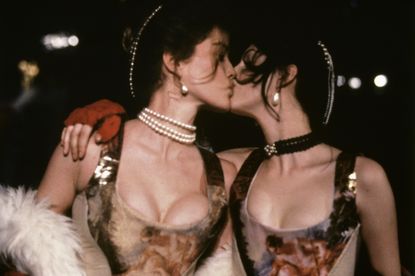 (Image credit: Photography by John van Hasselt/Sygma via Getty Images)
The rococo grandeur of The Wallace Collection – home to the most important collection of paintings by François Boucher, as well as other 18th- and 19th-century masterpieces – was a constant source of fascination for Vivienne Westwood in her lifetime. Drawn to the voluptuous bustles and bows, pearls and intricate snuff boxes, Westwood looked to the London gallery for inspiration for her autumn/winter 1990 collection, 'Portrait'. 'I wanted to use things that most epitomised the paintings,' she would later say, including a riff on the corset – here adorned with Boucher's Daphnis and Chloe (1743). It has become one of the late designer's most enduring pieces.
'Vivienne Westwood Corsets – 1987 to Present Day' exhibition
Corsets would reappear throughout Westwood's oeuvre, a hallmark celebrated in new London exhibition 'Vivienne Westwood Corsets – 1987 to Present Day' (8 May – 21 May 2023) which explores how the designer subverted the garment once synonymous with female constraint. Taking place in the brand's store on Mayfair's Conduit Street to coincide with London Craft Week, it begins in the late 1980s, when Westwood first reintroduced the style in her autumn/winter 1987 'Harris Tweed' collection. A play on 18th-century attire, the sleeveless bustier transformed the traditional garment from underwear to outerwear. Westwood dubbed it her 'Statue of Liberty' corset for the way it transformed the wearer's posture – while also recalling the New York monument's towering feminity and symbolic freedom.
The exhibition will feature corsets from throughout the period, designed by both Westwood and husband Andreas Kronthaler, who in 2016 took over the brand's 'Gold Label' collection (now, it is called Andreas Kronthaler for Vivienne Westwood). A curated retrospective, it offers the rare chance to see some of Westwood's pivotal runway looks – which continue to inspire contemporary collections, and often reappear in new iterations and prints. At Kronthaler's most recent show – the first since Westwood's death in 2022 – the final look, worn by Westwood's grandaughter Cora Corré, was a corseted riff on bridalwear. The Austria-born designer said the show was a tribute to the pieces which defined Westwood's career; 'In everything we show, I thought of you,' he said.
To coincide with the exhibition, the brand will also release a special limited-edition jewellery collection. It will feature a charm of a Vivienne Westwood corset that first appeared in the autumn/winter 1987 'Harris Tweed' collection and was reimagined in a metallic gold iteration for the autumn/winter 1988 'Time Machine' collection, which inspired the new gold-plated charm. Available in Vivienne Westwood flagship stores and on the brand's website, the charm appears on a necklace and bracelet, on either a pearl or gold-plated chain with matching clip earrings.
'Vivienne Westwood Corsets – 1987 to Present Day' runs from 8 May – 21 May 2023 at Vivienne Westwood, 44 Conduit Street.
Jack Moss is the Fashion Features Editor at Wallpaper*. Having previously held roles at 10, 10 Men and AnOther magazines, he joined the team in 2022. His work has a particular focus on the moments where fashion and style intersect with other creative disciplines – among them art and design – as well as championing a new generation of international talent and profiling the industry's leading figures and brands.