'Man Ray and Fashion' at MoMu: how the Surrealist artist changed the way we see clothes
'A mixture of humour and enigmatic glamour', says curator Romy Cockx of Man Ray's influential fashion photography, which features in a new Antwerp exhibition alongside the designers it inspired, from Martin Margiela to Dries Van Noten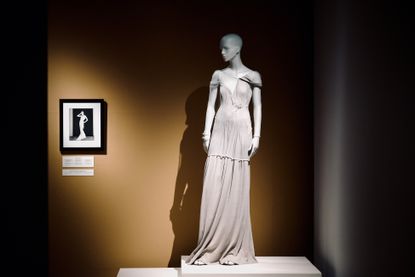 (Image credit: Photography by Matthias De Boeck, courtesy of MoMu Antwerp)
That fashion designers would be influenced by the work of Man Ray – the American visual artist and photographer most associated with the Dada and Surrealist movements of the 1930s – was 'inevitable' says Romy Cockx, the curator of 'Man Ray and Fashion', which is open now at MoMu - Fashion Museum Antwerp (until 13 August 2023).
Continuing a string of intriguing recent shows at the 2002-founded institution, including 'Mirror Mirror: Fashion and the Psyche' (an exploration of 'fashion, psychology, self-image and identity') and 'E/MOTION. Fashion in Transition' ('fashion as an expression of emotion, fear and desire in society'), this latest exhibition provides a wide-ranging exploration of Man Ray's connection with fashion during his career. Photographing imagery for magazines like Harper's Bazaar, Vanity Fair and Vogue as well as fashion and cosmetic advertisements – several of which have become his most memorable pieces of work – he would become one of the foremost documenters of interwar fashion and its oftentimes surreal preoccupations. Case in point: a close relationship with couturier Elsa Schiaparelli, known for her witty and dreamlike flourishes (as well as photographing both the designer and her work, Man Ray also made a spiralling pair of 'hypnotic' spectacles for the house of Schiaparelli in 1936).
'Man Ray and Fashion' at MoMu Antwerp
Several of these works feature in the exhibition, which is co-organised with Réunion des Musées Nationaux – Grand Palais, in partnership with the City of Marseille Museums (a different iteration was shown at the Musée Cantini and Chateau Borély, Marseille in 2020 and at Musée du Luxembourg in Paris later that year).
'During the years he worked for Harper's Bazaar in the 1930s, Man Ray was given a free hand to depict fashion. His artistic interpretation regularly took precedence over the clear representation of the clothing itself,' says Cockx of his dreamlike photographic style, which often used Surrealist techniques such as solarisation and double exposure and placed focus on silhouette and form ('creative unconsciousness', describes Cockx of his process). 'In the exhibition, we show a picture he took of a black crêpe dress by Augustabernard in 1934, next to the actual dress, which I think illustrates his daring and modern point of view.'
'For Man Ray, the realms of art and fashion weren't mutually exclusive, at least not during the interwar period,' Cockx continues. 'His commercial fashion photography inspired his artworks and vice versa. We hope the exhibition once again illustrates that fashion is part of society and is permeated by many influences.'
Man Ray's own influence is highlighted in the exhibition with garments by some of the numerous contemporary designers who have drawn from the artist's oeuvre, including Martin Margiela, Olivier Theyskens and Dries Van Noten (Cockx said for this iteration in Antwerp there was a focus on Belgian designers). 'I think surrealism, and particularly the work of the Belgian painter René Magritte, became rooted in Belgian collective consciousness,' Cockx explains. 'As early as 1924, Belgium was the first country other than France whose initiatives led to the establishment of a surrealist scene. Members of it were linked with fashion through the Belgian couture house Norine – Magritte designed advertisements for the house it integrated imagery of Max Ernst and Man Ray in its dress designs. Norine was also one of the first couturiers that was photographed by Man Ray.'
Of the designers on display, Cockx says Margiela's collections were 'filled with references' to Man Ray (though apart from a photocopy of Les Larmes in a 1988 portfolio from the designer, it 'was never literal'), while those found in Van Noten's work were more subtle, tracing a link between Man Ray's Surrealism and Pop Art. Dirk Van Saen (a member of the Antwerp Six, alongside Van Noten), meanwhile, found his way to Man Ray through references to Schiaparelli's 'trompe l'oeil aesthetics'.
'What is the special factor that connects them all? I believe elements and influences from Man Ray's oeuvre have always been given a personal interpretation in Belgian fashion and never stand alone,' Cockx says.
But the curator says that Man Ray's pioneering vision was far-reaching – a trail of influence that has shaped the way that we see, and photograph, fashion today. 'Andy Warhol was an admirer of Man Ray, the fashion photographer Guy Bourdin was inspired by his work in the 1970s, as well as Yves Saint Laurent,' Cockx says. 'In recent seasons, the influence of Surrealism on fashion seems to have increased – a trend sometimes linked to the uncertainties we face today.
'He played an important role in the spread and commercialisation of Surrealist imagery during the 1930s, so it seems logical that elements of his work are being reinterpreted now as well. I think his work continues to resonate because of its mixture of humour and enigmatic glamour.'
'Man Ray and Fashion' at MoMu - Fashion Museum Antwerp from 22 April – 13 August 2023.
Jack Moss is the Fashion Features Editor at Wallpaper*. Having previously held roles at 10, 10 Men and AnOther magazines, he joined the team in 2022. His work has a particular focus on the moments where fashion and style intersect with other creative disciplines – among them art and design – as well as championing a new generation of international talent and profiling the industry's leading figures and brands.