Track your Loro Piana sweater from farm to store using blockchain technology
Powered by the Aura Blockchain Consortium, Loro Piana is allowing customers to digitally track the origins of its 'The Gift of Kings' merino wool pieces and certify authenticity – a celebration of the brand's superlative savoir-faire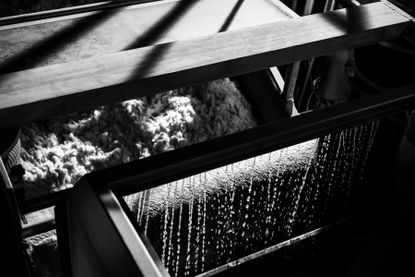 (Image credit: Courtesy of Loro Piana)
The history of Loro Piana – the Quarona-based brand best known for its luxurious clothing in the so-called 'noble fibres' of cashmere, silk, and vicuña – can be traced back to the early 1800s, when the eponymous family began trading wool in the village of Trivero, northern Italy.
Loro Piana remains rooted in its ability to source the world's finest raw materials, whether derived from the cashmere goats of Mongolia, merino sheep in Australia and New Zealand, or vicuña from the Andes (and even a fibre from lotus flowers in Myanmar, of which it takes up to two months to produce a single kilogram). 'Every step, from raw fibre to finished product, is directly controlled internally, with a continuous focus on the environment, biodiversity and local communities,' says the brand, which celebrates these principles celebrated in a new digital certification service powered by the Aura Blockchain Consortium.
Coinciding with the launch of the brand's store in Palo Alto, California, shoppers will be able to scan a QR code on Loro Piana's 'The Gift of Kings' merino wool products – 'one of the oldest, most prized and exclusive wools in the world', created from Australian and New Zealand sheep raised by expert breeders – and discover a piece's entire history, from field to factory to store. The QR code will also act as a marker of authenticity; those who purchase the garments will be able to register ownership, which can then be passed down to further generations through the transmission of the certificate of ownership.
Initially, the scheme will only extend to 20 products in the Palo Alto store, though beginning later in March and from the S/S 2023 collection onwards, this certification will be extended to all 'The Gift of Kings' products worldwide. And, though not yet announced, it looks likely that such QR codes will begin to appear throughout Loro Piana's output.
The Aura Blockchain Consortium was founded in an unprecedented alliance of LVMH, Prada Group and Cartier, part of the Richemont group (OTB Group and Mercedes-Benz have joined since its advent in 2021). A non-profit based in Switzerland, its aim is to hone the customer experience through the use of blockchain and Web3 technology, as well as promoting circular business models, sustainable practices, and supply transparency.
'For six generations the maison has been driven by a passion for excellence and uncompromising quality... now, the maison has decided to make its savoir-faire even more transparent,' says Loro Piana. 'Using the Aura Blockchain Consortium, an initiative led by luxury maisons going beyond traditional frontiers to become a technological hub... [it guarantees] the authenticity, traceability and excellence of luxury products.'
Jack Moss is the Fashion Features Editor at Wallpaper*. Having previously held roles at 10, 10 Men and AnOther magazines, he joined the team in 2022. His work has a particular focus on the moments where fashion and style intersect with other creative disciplines – among them art and design – as well as championing a new generation of international talent and profiling the industry's leading figures and brands.