How to maintain blonde hair, the definitive guide
Every product you need to maintain perfect blonde hair, whether its from the bottle or natural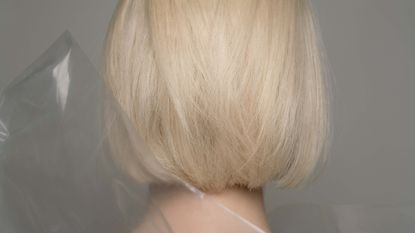 (Image credit: Brigitte Niedermair )
Getting blonde hair can feel like a major life commitment, one that can be more costly, time-consuming, and damaging than a romantic relationship or a new house, but just as enticing.
Whether you are bleaching or balayaging, going strawberry or ash. Our guide to maintaining blonde hair is here to ensure that this is a relationship you are happy to maintain.
How to maintain blonde hair: the products
---
K18 leave-in repair mask
Move over Olaplex, K18's leave-in repair mask is a blonde builder that, unlike competitors, can simply be left in after your wash for a more time-efficient and straightforward experience. It is one of those most buzzed-about hair products of the moment, and for good reason – this stuff actually works.
Hair looks and feels healthier after just one use and for those who have experienced severe damage from bleaching, it is an absolute must-have. We recommend that any bottle blondes who don't have it already purchase ASAP.
Davines Heart of Glass range
We are big fans of Davines products, all of which are sustainably produced at the brand's remarkable mini-village in Parma, Italy. Its OI Liquid Luster is a worthy investment for any hair colour or type, but for blondes, we recommend trying the four-step Heart of Glass range.
The range includes a shampoo and ultra-moisturising conditioner, as well as a Sheer Glaze brightening fluid specially designed for cosmetic blondes, and an intense treatment mask for strengthening hair fibre and preventing breakage.
It is a more effective alternative to purple shampoo, with a bright indigo colour derived from jagua fruit extract. It is an effective choice for all blonde tones – ensuring warm tones stay warm and cool stay cool. Even better, unlike purple shampoos, it can be used every single wash without risk of damaging colour.
Oribe Sun Lightening Mist
Another reliable favourite is Oribe's Bright Blonde product range. Our favourite is the brand's Sun Lightening Mist, which acts as a much more sophisticated, and effective, alternative to lemon juice. It is great for those with dark hair who want to get some natural highlights, as well as blonds who want to bring their hair back to brightness after it has gone brassy.
Just work in a couple of sprays before going out in the sun. It's that easy.
Dizziak Deep Conditioner
Hair masks are a must-have for colour-treated hair, and Dizziak is one of our favourites. Loretta De Feo created the buzzed-about (and Dua Lipa-backed) brand as an affordable haircare brand that prioritises hair health, products that look and smell great, and work on all hair, especially afro and curly hair.
Dizziak's hero product is the Deep Conditioner, which can be left in for five to 30 minutes depending on how much hydration is needed. However long you chose, you will be left with hair that is soft and noticeably healthier looking.
La Bonne Brosse essential soft hair brush
La Bonne Brosse's luxury hair brushes are a perfect companion for bleached hair that is easily breakable and prone to frizz. Its boar hair bristles are naturally rich in keratin that hydrate and nourish hair, while the nylon fibre ball ends provide a smooth detangling and deep massage.
With a range of colourful enamel bases, these French brushes are designed to look as good on your vanity as they feel running through your hair.
Mary Cleary is the Beauty & Grooming Editor of Wallpaper*. Having been with the brand since 2017, she became an editor in February 2020 with the launch of the brand's new beauty & grooming channel. Her work seeks to offer a new perspective on beauty, focusing on the pioneering personalities, product designs, and transformative trends within the industry.