Discover the secret of hydrated hair with the founder of haircare brand Dizziak
Loretta De Feo, founder of cult (and Dua Lipa-backed) haircare brand Dizziak, shares her beauty tips and goals for changing the industry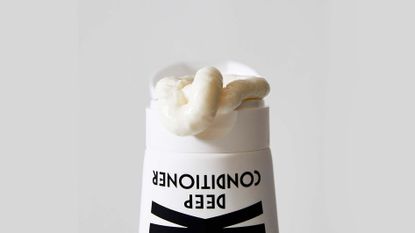 (Image credit: Dizziak)
When Loretta De Feo started the now cult haircare brand Dizziak in 2018 it was because she needed it. She had, as she puts it, 'been let down time and time again by product claims that didn't work on my hair and also the lack of availability at the time on the high street'.
After 16 years working in live music and almost three years as a beauty journalist, De Feo decided to combine her professional acumen and personal experience to create what the market was missing – an affordable haircare brand that prioritised hair health, looked and smelled great, and worked on all hair, especially afro and curly hair.
Dizziak haircare
'My starting point was the recognition that all hair is different,' says De Feo, 'but there are some ingredients that are good for all hair. So, I focused there when developing the products.' Those ingredients include natural oils like coconut oil, Inca inchi oil, and argan oil, as well as aloe vera and quinoa protein; all of which are used across the brand's four products – the Hydration Wash, the Deep Conditioner, the Body Wash and the Body Scrub.
That small but strong range of products has garnered a devoted legion of fans, including pop star Dua Lipa, who signed on as a shareholder of the brand late last year. 'When I was first introduced to Loretta and the brand in London, I was drawn to her ethos of making healthy haircare products accessible to people of all hair types,' says Lipa. 'I love the story, love Loretta, love the brand and the products.'
When asked her secrets for healthy hair, De Feo responds that Dizziak will set the foundations but, beyond that, it's really a personalised matter of considering the following and testing what works for your hair type: how often you wash, how you brush and detangle, how frequently you use styling products and which ones, how you style and how tight you pull your hair, how often you trim, how often you hydrate your body, how you dry your hair, how you apply your products, and how consistent you are with your routine.
When it comes to bodycare, she suggests you start at the feet with the Body Conditioner and work your way up the body, going against gravity, which is great for skin lifting and lymphatic drainage. Also try massaging feet with the Body Scrub in circular motions. Spend at least five minutes on each foot. Soak in a foot spa or bucket with warm water. This is great for removing dead skin cells and relieving muscle tension.
We rate all of the brand's four products highly and appreciate the way they slot in easily to any hair or body regime. As De Feo says, 'each product in the Dizziak range I create is based on the idea that it's because it's needed, best in class and doesn't already exist'.
dizziak.com (opens in new tab)
Mary Cleary is the Beauty & Grooming Editor of Wallpaper*. Having been with the brand since 2017, she became an editor in February 2020 with the launch of the brand's new beauty & grooming channel. Her work seeks to offer a new perspective on beauty, focusing on the pioneering personalities, product designs, and transformative trends within the industry.