Hermès perfume Un Jardin à Cythère is a cinematic exploration of a Greek garden
With Un Jardin à Cythère, Hermès perfumer Christine Nagel recreates the sensations of crunchy grass, watery pistachios, and windswept olive trees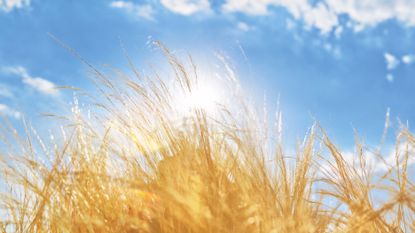 (Image credit: Paul Rousteau)
Un Jardin à Cythère, Hermès' latest addition to its Parfums-Jardins collection, is inspired by a landscape that is dry and windy, 'someplace arid and lacking vegetation', as in-house perfumer Christine Nagel describes it.
If that hardly sounds like a garden, then you've understood Nagel's point. Les Jardins fragrances are, as the name suggests, inspired by gardens and Un Jardin à Cythère has been created in line with Hermès' theme of 2023 as 'the year of astonishment'. Nagel, who has always been a lover of surprises (unexpected combinations, like a musky rhubarb or a woody lemon, are her signature – see our interview with Nagel on the release of Terre d'Hermès Eau Givrée), decided to create a different kind of garden fragrance, inspired by a landscape that has continued to astonish her years after she first saw it.
Un Jardin à Cythère
Un Jardin à Cythère is a distinctive, blond fragrance – a little citrussy, a little woody, a little malty – inspired by the Greek island of Kythira. To create it, Nagel drew from her first experience visiting the island. 'I had this image from when I first arrived,' she says, 'of seeing, from the sea, these fields of olive trees and the high grasses blowing in the wind. What I wanted to add was the scent that accompanied this visual landscape.' The result is immediately perceptible notes of crisp, sun-dried grass and nuttier notes of olive wood; but there are other elements as well, that are not as easy to discern.
Nagel has a synesthetic approach to her craft that means she often works more like a cinematographer than your typical perfumer. Instead of creating perfumes that mimic the smells of something else, like a rose perfume that smells like a rose garden or a marine perfume that smells like a beach, she creates fragrances that are informed by the 'colour, texture, sounds' of an image in her mind.
'A perfumer is gifted in the sense that they can capture emotions and store them in their mind, almost like a library of memories. So when I travel I am able to see something and that image goes into my head and stays there for me to recreate [olfactorily] later.'
With Un Jardin à Cythère, that means creating a fragrance that captures the crunchy feeling of dry grasses underfoot; or the watery explosion of the island's fresh pistachios (which are pink in colour and can only be harvested for two weeks of the year). The warm feeling of the sun is conveyed through the perfume's strong oaty notes, a kind of smoky cereal scent that Nagel describes as 'the moment when you're grilling something and you get to the point right before something is burnt, when it's almost caramelising'.
The added challenge is that almost none of these fragrances actually exist as essences, which means Nagel has to create them completely from scratch. 'It's a more interesting challenge to create something without the natural essence. When you have a rose essence you can just put it in a bottle and have rose. When I have to do something like an olive tree, which doesn't have a natural essence, I have to find all the different materials and ingredients and make up the formula in my head.'
It is this, perhaps, more than anything that gives Un Jardin à Cythère its unique character. Its blend of grasses, olive wood, and fresh pistachio smelling familiar enough that you can recognize them, but strange enough that you have never quite smelt them before.
Un Jardin à Cythère eau de toilette, £58, available from selfridges.com
Un Jardin à Cythère body shower gel, £46, available from selfridges.com
Mary Cleary is the Beauty & Grooming Editor of Wallpaper*. Having been with the brand since 2017, she became an editor in February 2020 with the launch of the brand's new beauty & grooming channel. Her work seeks to offer a new perspective on beauty, focusing on the pioneering personalities, product designs, and transformative trends within the industry.