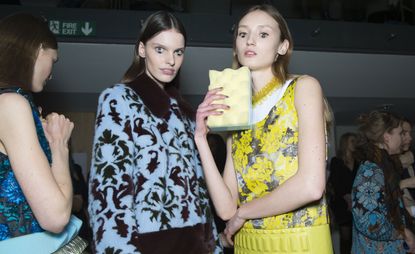 (Image credit: Jason Lloyd-Evans)
Scene setting: Mary Katrantzou set out to challenge our notions of good taste for A/W and her Barbie-pink studded sponge runway was a fitting place to start.
Mood board: Bureau Betak's pyramid-shaped packing studs were not to rest underfoot on the runway. The foam blocks also washed up on a new generation of Katrantzou cocktail attire, just as plasticised filament decorated the hoods of her damask duffle coats. If this designer set out to keep her loyal followers guessing, she certainly succeeded with the flounced Victorian hobble skirts and unconventional fabric combinations. But once computed, the leap of style faith was a slam-dunk.
Best in show: The blurred line between Belle Epoque grandeur and the tech superhighway made this show's wackier pieces - think plastic ruffle bands, damask florals etched in leather, and pockets that looked like solar panels - all the more valuable.