'A link between two cities': Hermès' new Manhattan store sees Paris meet New York
Hermès' latest store on Manhattan's Upper East Side is a 'salon to salon' journey through the houses' 16 métiers. Here, chief architect Denis Montel of RDAI tells Wallpaper* more about Hermès 706 Madison Avenue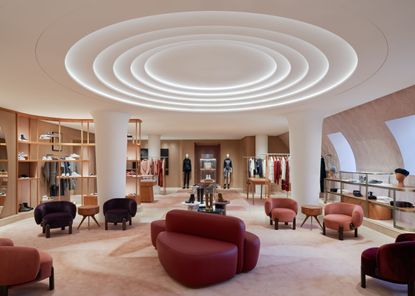 (Image credit: Photography by Kevin Scott, courtesy of Hermès)
Hermès has opened a staggering new 20,250 sq ft store on Manhattan's Upper East Side, located on the corner of Madison Avenue and 63rd, just a block from Central Park and directly across the street from its former store, now closed, which opened in 2000. The major flagship was conceived as 'the expression of Hermès in New York, a link between our two cities, New York and Paris', as Pierre-Alexis Dumas, artistic director of Hermès, describes.
The store is formed of two buildings, now combined, one being a former bank and a listed building. 'There were a few very interesting architectural elements that existed, so we kept them and played with them,' says Denis Montel of RDAI, the agency founded by Rena Dumas (Pierre-Alexis Dumas' mother, who passed in 2009) in 1972 and now headed up by Montel and Julia Capp. 'It creates two stories,' he says of the design's dichotomies – Paris versus New York, past versus future – which come to life in elements such as the original iron staircase and clock from the bank which have been meticulously restored.
Inside Hermès 706 Madison Avenue
Inside, a series of rooms flow from 'salon to salon', journeying shoppers through all of the house's 16 métiers, from beauty to womenswear, shoes to equestrian equipment, alongside hats, tableware, perfume, interior design objects, babywear and more. Each space has been designed with its own feel and scrupulous detail, every finish and material custom-made and entirely unique – from terrazzo flooring to straw marquetry, leather walls, mosaic tiles and luxurious deep-pile carpets.
Montel breezily summarises the process of creating a project of this gargantuan scale, which has been eight years in the making: 'You have to start with the shell, and then define good proportions and volumes, and assess how the light is, where are the windows and so forth. Then there is a second stage: imagining the atmosphere, and what feeling you want to create. Then it's a matter of colours and materials. Then comes another reduction of scale; choosing the very fine details.'
'We wanted to create something warm and enveloping, that is why there are almost no angles,' he continues, pointing out the curved wood and glass cabinets, the laser-cut, lacquered wooden wall panels with undulating lines of gold leaf, and the massive Portuguese limestone staircase which, despite its weight, seems implausibly to float on air. 'It took almost one year to build,' he reveals, constructed one enormous block at a time. 'Every line is curved, so it gives the feeling of lightness.'
A handful of special designs were exclusively created for the new Madison store, including 'Kelly' bags of all scales, two new watches, a jukebox and a bicycle that bears the store address printed on its frame. Five dedicated onsite artisans – another 6,000 are employed in France – will be stationed in their own private atelier, working on-site on leather, jewellery and horology.
Hermès consistently finds inspiration from nature; here, the store feels built from the roots up, leading up to the light-flooded top floor where a motif of leafy branches artfully wraps the entirety of the top floor ceiling before reaching an expansive skylight. The branches were rendered in fibreglass and were a feat of engineering to create and install, yet in true Hermès fashion appear to exist there effortlessly.
Elsewhere, patterns from the underside of mushrooms are blown up and transformed into jacquard wall coverings (there are no printed fabrics at all used in the store design), specially commissioned by textile artist Grethe Sorensen. (In 2021, the French house made moves to explore working with mycelium leather in collaboration with American company MycoWorks.)
One custom natural wall fabrication, in the women's shoe salon, is created from Linum, linen and paper, and then painted to highlight its curvilinear texture and leaf pattern. On the top floor, marble chips in a custom terrazzo have been intricately placed to give the subtle impression of roots unfolding into the space from the verdant outdoor roof garden designed by Miranda Brooks. The colour palette comprises earthy pinks, soft beiges and ivory, alongside more vivid shades of dark chocolate, clove, umber and moss green.
Hermès may not be in the business of hospitality, but it takes it seriously. Aiming to create an environment more akin to a bustling family home than a retail boutique – 'a buzzing, lively house of contagious energy', wrote CEO Axel Dumas in his letter to the press – the store is equipped with a concierge, dedicated butler service on every floor, a coffee bar, champagne bar and cocktail bar. Throughout the store, secret sumptuous rooms bedecked in velvets and jacquards reveal themselves behind sliding doors, where guests can relax or very special purchases privately take place.
Artworks and printed silk scarves decorate walls throughout the store. The interwoven tale of Paris and New York continues with the selection of 150 works on display: paintings by young contemporary French artist Antoine Carbonne, French printmaker François Houtin, and window displays by Brooklyn-based artist Mike Perry and Rosa Bonheur (who will also have a major retrospective at Musée d'Orsay opening later this month).
'Art is full of invisible links, that's what culture is about,' says Pierre-Alexis Dumas. 'It's about thinking and learning but also serendipity.'
Hermès, 706 Madison Avenue, New York, 10065.
Tilly is a British writer, editor and digital consultant based in New York, covering luxury fashion, jewellery, design, culture, art, travel, wellness and more. An alumna of Central Saint Martins, she is Contributing Editor for Wallpaper* and has interviewed a cross section of design legends including Sir David Adjaye, Samuel Ross, Pamela Shamshiri and Piet Oudolf for the magazine.