Reach Veganuary victory with this plant-based food delivery service
Food delivery company Tyme is helping Londoners achieve their plant-based new year's resolutions as the city comes to terms with another difficult lockdown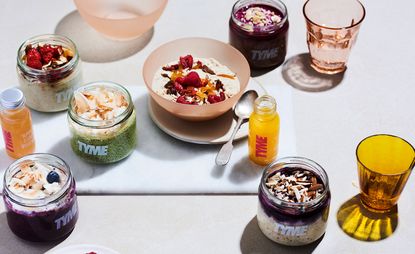 (Image credit: TBC)
Resolutions and routine overhauls appear particularly overwhelming entering the uncertainty of 2021, especially in countries entering another period of lockdown. But despite a dip in new year optimism, a record 500,000 people have signed up to this month's Veganuary challenge, with 150,000 people in the UK pledging to adopt a plant-based diet. For Veganuary enthusiasts across London, struggling with free time and dedicated moments to prepare animal product-free recipes, food delivery company Tyme is at your service.

The newly launched plant-based health-boosting company is serving up a range of breakfast, lunch and dinner options, as well as energy-encouraging snacks, delivered straight to your door. Seeing us through the day? Tyme's Cacao Raspberry oat bowl, served with a shot of turmeric and ginger, a Sardinian Minestrone soup, brimming with British marrowfat peas and badger beans, plus a protein heavy Shroomy Soba dish, packed with noodles, mushrooms and broccoli. Tyme's Cashew and Matcha energy balls are also adding oomph to our inevitable afternoon slumps.
The brainchild of UK-born London-based Phil Winser – who opened and ran The Fat Radish, East Pole and most recently Orchard townhouse in NYC – Tyme was born when, in 2019, Burger King asked him to create a vegan burger for their menu. Keen to follow his own plant-based path, Winser founded Tyme as a response. A boost to its eco-credentials, the brand's products are plastic-free and packaged in glass jars and bottles, with compostable labels.

For those keen to kickstart Veganuary with as much eating ease as possible, Tyme is also offering a range of limited edition kits, featuring a selection of breakfast items, shots, soups and stews and fridge fillers. Plant-based, sustainabily packaged perfection.
INFORMATION
tymefood.com (opens in new tab)