Taste the complex flavours of Terre, the Michelin-star restaurant in the Irish countryside
Following the announcement of its Michelin star, we visit Terre in County Cork to see what it has to offer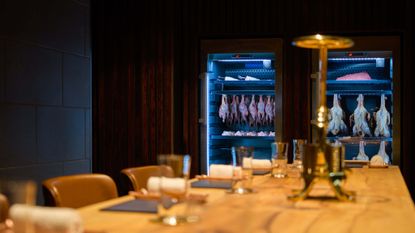 (Image credit: Terre)
Set amid the verdant Irish landscape, the Castlemartyr Resort in County Cork offers all that the discerning traveller would expect from a luxury destination, including Terre, a restaurant that presents outstanding contemporary cuisine at a stellar level. Terre has just been awarded its first Michelin star after opening in the autumn of 2022 under the helm of chef Vincent Crepel.
Crepel has worked in some of the most revered kitchens in the world, including three Michelin-starred Arzak in Spain, Hôtel de Ville Crissier in Switzerland, and with André Chiang in Singapore. He chose Castlemartyr as the location for his first solo venture outside his native France and named his restaurant 'Terre' in homage to the connection between land, people and produce.
Crepel's cuisine has its roots in French cooking and is influenced by his global experience – in particular by Asian flavours and techniques. Cork in southern Ireland is one of the best food regions in the world and Terre's location enables Crepel to draw upon a rich abundance of the highest-quality produce from the surrounding land and sea.
The team at Terre offer a multi-layered sensory adventure, where ingredients are first presented to guests as beautiful still-life arrangements in glass-fronted cabinets and fridges. The journey includes a seat at a magnificent chef's table with a front-row view into Crepel's kitchen, where culinary skill and superb food are showcased within a spot-lit, black-walled space that highlights the drama of cooking at this level. A series of exquisite appetisers, including blue lobster, stone crab and Wagyu beef, are served with champagne, and anticipate the unfolding of an extraordinary evening.
Crepel comments: 'From the first moment I saw the green fields of Ireland surrounded by its spectacular coastline, I have felt a connection with the land and its people, drawn energy from the sea, and inspiration from its bounty. At Terre, my hope is to bring you on a special journey, and to share with you my very personal vision of a modern restaurant experience.'
Dining at Terre is a fantastic gastronomic trip. The large, grand rooms of the 17th-century manor house in which Terre is housed afford the space and scope for guests to move through a variety of settings, witnessing culinary theatre with different backdrops and moods.
The experience is almost dream-like – comprising a series of memorable tableaux hued in navy blue and warm earthy tones that resonate with the Irish landscape outside and the heritage of the Castlemartyr Estate. Carefully selected furniture and tableware honour the skill of local craftspeople – with a striking modern collection created exclusively for use in Terre by Fermoyle Pottery, and perfectly complementing the menu.
The ambiance has been beautifully curated according to Crepel's vision, including the music, which is his own eclectic playlist. The scene is set for guests to thoroughly immerse themselves in Crepel's cuisine through a succession of delicious dishes. Among them, otoro tuna belly with radish, trout roe, and toasted Irish kelp; and turbot served with miso vermouth, jasmin caviar, rose oil and white asparagus. Guinea fowl is cooked over bincho (a Japanese method of grilling over oak charcoal) to create a dish of exceptional flavour.
The wine is given the same prominence as the food. There is an exciting selection, compiled from a list of small-scale, family-owned producers using low-intervention methods to produce biodynamic and organic wines. Altogether, Crepel's sensory journey is a unique and unforgettable experience – well deserving of its coveted Michelin star.
Melina Keays is the entertaining director of Wallpaper*. She has been part of the brand since the magazine's launch in 1996, and is responsible for entertaining content across the print and digital platforms, and for Wallpaper's creative agency Bespoke. A native Londoner, Melina takes inspiration from the whole spectrum of art and design – including film, literature, and fashion. Her work for the brand involves curating content, writing, and creative direction – conceiving luxury interior landscapes with a focus on food, drinks, and entertaining in all its forms