Drink to Dublin: Jameson enlist artist James Earley to design new label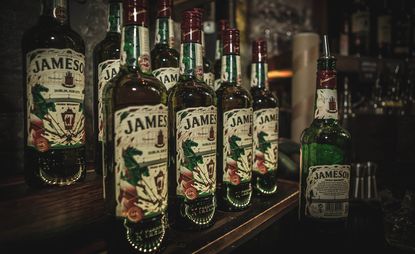 (Image credit: press)
Any visitor to Dublin's fair city will quickly sense the iconic presence of Jameson whiskey, which is woven into the fabric of life in Ireland's capital. The brand began producing whiskey in Dublin in 1780, and has always been closely linked with the city's rich cultural scene, championing its music, literature, and art.

Not content to simply rest on the laurels of an impressive heritage, Jameson continue to carry the torch for contemporary Irish culture – and they take a broad and directional view.

For 2016, they have called upon the talents of celebrated artist James Earley to design a limited edition bottle. The choice is inspired, as his work perfectly captures the contrast and connection between Dublin old and new.

Earley's style originates from a background in street art and graphic design – a stroll though Dublin's Temple district reveals striking examples of his work that rear up unexpectedly between Georgian buildings. His limited-edition label design features the bridges of Dublin, which symbolise the links between the different sides of city life, and its creative past, present, and future.

The productive relationship between whiskey, and art in all its forms, has long been noted, with Jameson's new bottle a shining example.
INFORMATION
Jameson Limited Edition Bottle, from €39.95, and Jameson green glasses, from €3.95 each. For more information, visit James Earley's website (opens in new tab)
Melina Keays is the entertaining director of Wallpaper*. She has been part of the brand since the magazine's launch in 1996, and is responsible for entertaining content across the print and digital platforms, and for Wallpaper's creative agency Bespoke. A native Londoner, Melina takes inspiration from the whole spectrum of art and design – including film, literature, and fashion. Her work for the brand involves curating content, writing, and creative direction – conceiving luxury interior landscapes with a focus on food, drinks, and entertaining in all its forms