This Milan restaurant is a secret garden among the city's rooftops
Horto is a new Milan restaurant that promises to be one of the city's most interesting culinary destinations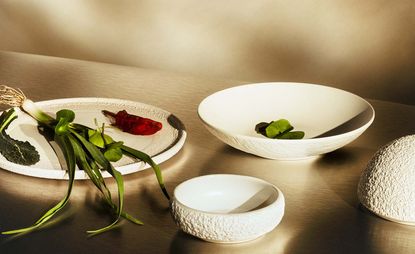 (Image credit: Mattia Parodi)
This summer, an intriguing new Milan restaurant is set to open its doors. Located on top of The Medelan building in the centre of the city, Horto promises to be an Arcadian oasis hidden amongst Milan's industrial clutter. To create this unconventional hideaway that blends urban edge with bucolic charm, founders Diego Panizza and Dr Osvaldo Bosetti worked with Luisa Collina, dean of the School of Design at the Politecnico di Milano; architect Genius Loci Architettura, landscape designer Raffaella Colombo; and creative agency Motel 409.
'The past months have sent us a clear signal,' explains Panizza. 'We have to carefully consider how we spend our time, because it will dictate the quality of our lives and the lives of those around us. Milan is a fast, growing and working city, but the centre of this metropolis lacks a space where one can fully and truly stop. A reconnection with nature can offer that sense of escapism, instants in which to rekindle oneself in peace.'
Horto: new Milan restaurant with an ethical approach
For its founders, Horto is a cultural experiment as much as it is a culinary project, using the format of the urban restaurant as a mechanism for exploring questions such as what does time well spent mean? How can our physical surroundings impact the quality of our lives? How do you create a successful commercial enterprise that respects its local ecosystem and the time of its employees?
Every aspect of Horto has been considered in relation to an 'ethical hour' philosophy, which dictates that hours of the day should be spent in pursuits that improve the future and the present for ourselves and for others.
'We wanted to do something that could positively influence the future,' explains Panizza, 'and that starts with respect. Being respectful means spending our time being ethical, thus the "ethical hour" came to be, a concept we have applied to every element of Horto's microcosm.'
From a culinary perspective, Horto has done this by entrusting its kitchen to chef Norbert Niederkofler (of three-Michelin-star and one-green-star restaurant St Hubertus at the Hotel Rosa Alpina in San Cassiano). For years, Niederkofler has been a proponent of sustainable cuisine with cooking that places an emphasis on raw materials, local suppliers, and low-impact farming. Niederkofler alongside executive chef Stefano Ferraro (former head pastry chef of Noma) and head chef Alberto Toè has designed the menu to feature predominantly seasonal raw ingredients sourced from the local Lombardy region and purchased from producers within an hour's drive from Milan.
'Vicino c'è tutto (there is everything nearby) became our mantra,' explains Panizza. 'We've also created a semi-cooperative, so that only one means of transportation gathers all the products from the different producers. We've carefully selected every producer we collaborate with to ensure they are in line with our sustainable credo.'
That sustainable approach extends the aesthetic elements of the restaurant as well, from the furnishings of the space to the staff uniforms, which are made with natural and recycled materials and repurposed fabrics from emerging local businesses.
'Inside the space, we are using, for example, old vinegar barrels for the floors, and a special plaster made from recycled matter,' says Panizza.
He adds that similar consideration has been given to every aspect of the business: 'By closing on Sundays and setting team changes, [we] respect our employees' time. We're also providing our staff with a sustainable electrical car [courtesy of] Alperia (a green energy supplier based in Alto Adige). We're really trying to think of the all-round picture and this ethical philosophy will also guide our future choices.'
INFORMATION
Horto opens this summer, on the rooftop of The Medelan, via San Protaso 5, 20121 Milan
Mary Cleary is the Beauty & Grooming Editor of Wallpaper*. Having been with the brand since 2017, she became an editor in February 2020 with the launch of the brand's new beauty & grooming channel. Her work seeks to offer a new perspective on beauty, focusing on the pioneering personalities, product designs, and transformative trends within the industry.