Midleton Very Rare releases Chapter Three of oldest Irish whiskey collection
Midleton Very Rare has unveiled the third chapter in its Silent Distillery Collection – the oldest and rarest expressions in the history of Irish whiskey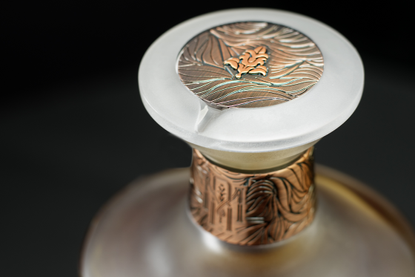 (Image credit: press)
Midleton Very Rare Silent Distillery Collection is an exceptional set of Irish whiskey releases ranging from 40 to 50 years old. Commencing in 2020, the distillery began to release one chapter a year as part of a six-year plan that will culminate in 2025, which will be the 200th anniversary of the founding of the Old Midleton Distillery (operational from 1825 – 1975).
Mention of a 'silent distillery' never fails to cause a frisson in the whiskey world, as the spirits released under this banner are extremely rare and highly sought after by enthusiasts and collectors of the best whiskies (opens in new tab). Let us explain: a 'silent distillery' is one that has closed its doors and ceased production. The legendary Old Midleton Distillery in County Cork, Ireland, was fully decommissioned in 1975 and will never produce whiskey again – there are only 97 bottles of Silent Distillery Chapter Three worldwide and they contain the last drops of a very precious liquid.
Chapter Three, which marks the halfway point of this extraordinary journey, is a 47-year-old single pot-still whiskey created by the union of two separate whiskies matured in a sherry butt and a bourbon barrel. The two whiskies date back to 1973 and were blended before bottling to give a unique and outstanding flavour.
The element of fire is hugely significant to the inspiration behind Chapter Three. Back in 1854, the largest pot still in the world was assembled and installed by local craftsmen at the Old Midleton Distillery, and then required the dedication of skilled 'fire men', whose job it was to control the temperature of the stills, which could heat more than 30,000 gallons of liquid in a single day.
Unparalleled in terms of age and history, Chapter Three has matured under the expert guardianship of four master distillers, with the current master, Kevin O'Gorman, being only the fourth to hold the title in 75 years.
Says O'Gorman: 'Midleton Very Rare Silent Distillery Chapter Three is a wonderfully aged yet contemporary expression of Irish whiskey like no other. This year, the inspiration of fire came from the world's largest pot still and the relentless work from the local men, the "fire men" who used to feed the still's fires, whilst learning how to regulate the heat through stoking and raking to ensure the temperature was correct.'
Chapter Three is a luxuriously rich, deep whiskey – both complex and beautifully balanced. There are notes of glacé cherry, mango and toffee on the nose, with the influence of the oak adding aromas of leather and tobacco, and a subtle spiciness bestowed by the fiery spirit of the pot still. The experience continues with a taste of freshly roasted coffee and nutty hazelnut and pistachio flavours – delicate notes of dried herbs and peppermint add further complexity. The finish is long and satisfying, with soft fruits and old pot-still spices lingering in harmony with the oak.
Midleton's proud Irish heritage is celebrated by the presentation of Chapter Three in a series of beautiful hand-blown and etched crystal decanters produced by Ireland's Waterford Crystal – each is individually numbered 1 to 97, and presented in a bespoke wooden cabinet handcrafted by Irish designer John Galvin. Fittingly magnificent, and contemporary in style, the elegant cabinet is hewn from burr elm – a rare and ancient wood whose markings suggest the leaping flames that heated the famous Midleton pot still.
Says Galvin, 'Midleton Distillery embodies Irish heritage, and this new chapter based around the element of fire inspired our team at John Galvin Design when sourcing materials and designing the cabinet for the bottle. Our craftsmen have used richly coloured burr elmwood for the wooden case with the aim of reconnecting us to our land and origins.
INFORMATION
Midleton Very Rare will be available to purchase via a ballot on the Midleton Very Rare 1825 room, which goes live on 3 May 2022 and closes on 10 May. The opportunity to taste drops of Chapter Three is available at an event at Adare Manor Hotel in Ireland on 29 November 2022, with limited tickets.
midletonveryrare.com (opens in new tab)
Melina Keays is the entertaining director of Wallpaper*. She has been part of the brand since the magazine's launch in 1996, and is responsible for entertaining content across the print and digital platforms, and for Wallpaper's creative agency Bespoke. A native Londoner, Melina takes inspiration from the whole spectrum of art and design – including film, literature, and fashion. Her work for the brand involves curating content, writing, and creative direction – conceiving luxury interior landscapes with a focus on food, drinks, and entertaining in all its forms