'Verbier Mountain Climbers' exhibition: the classic ski gondola reimagined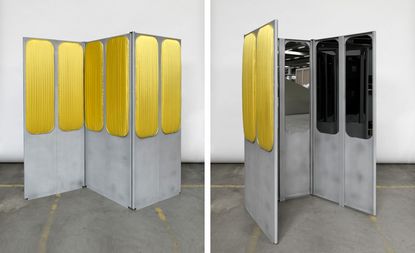 (Image credit: TBC)
An action movie standby, the (dramatically dangly) classic ski gondola is a lesson in understated industrial design. 'Verbier Mountain Climbers (opens in new tab): Revisiting a Swiss Icon', the brainchild of three Swiss art and design entrepreneurs, recognises and celebrates those credentials.

The trio have called upon some of Switzerland's leading designers to have their creative way with a collection of retired gondolas. The results will be shown at Design/Miami Basel (opens in new tab) this week before returning home to Verbier for a summer exhibition and then on to Geneva Airport for a final showing. They will then be auctioned by Christie's (opens in new tab) with the proceeds going to the Make-A-Wish Foundation (opens in new tab).

'The Gondola we are transforming for the project is a beautiful and typical example of industrial design,' says Albert Schrurs, founder of the architecture and design firm Allegory Studio (opens in new tab), and one of the organisers of Verbier Mountain Climbers. 'We asked the designers to give these objects a second life, as interesting and emotionally strong as was their first life. And they approached the project in different ways. The gondola was perceived as a volume, a source of material or as an emotional trigger.'

Atelier Oï (opens in new tab)'s contribution, 'Cabine del Papa', is a fantastic white pod with spinning rope wings while Adrien Rovero (opens in new tab)'s 'Rock' (opens in new tab) - a piece already given an airing last year - is a four-seater rocking chair. Taking his cues from Optimus Prime and the Transformers, Nicolas Le Moigne's gondola (opens in new tab) has become an indestructible looking table while Jörg Boner and Lela Scherrer have taken a number of gondola doors and created a series of heavy-duty screens.

Baker Wardlaw and Yves Décoppet meanwhile have taken a more tangential approach and turned their gondola into a giant gum-ball dispenser and Philippe Cramer has taken away the gondola away altogether and left the plexiglass windows hanging heroically in mid-air. The photographer Anoush Abrar (opens in new tab), charged with provided a suitably dramatic image to be part of - and promotion for - the exhibition, has his gondola held aloft by its own cloud.