London calling: Moss & Lam evokes Georgian houses with a new table trio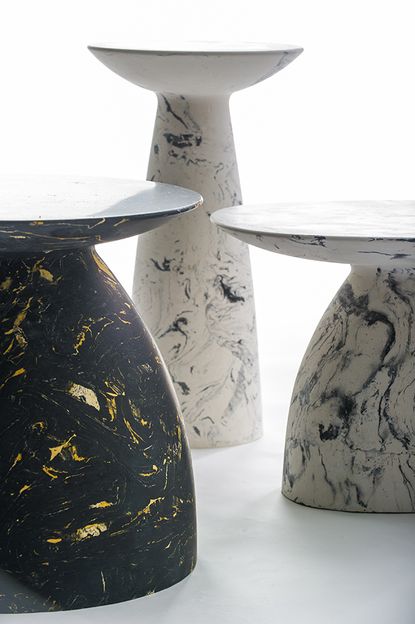 (Image credit: press)
From whimsical Toronto-based custom art studio Moss & Lam comes a new collection that revels in the past whilst looking to the future. Entitled 'W1 Tables', the complementary bevy comprises of pieces named with London's Central W1 district heavily in mind – Dover Street, Dean Street and Mount Street all get a look in, and the collection evokes a walk around some of the British capital's most elegant stretches of real estate.

Deborah Moss, Moss & Lam's artist and co-founder, usually draws her inspiration from a broad range of epochs and cultures. Here, with W1, she loved the fusion of stately Georgian townhouses contrasting with vibrant and bustling modern street life. And so the materiality of the tables has fun with a comparable duality. 'It's that sense of magic I wanted to capture with these pieces,' says Moss.

Each piece is hand cast using scagliola; a method of mixing cementitious plasters and pigments to create a marbleised surface. The centuries-old technique was once considered a poor man's alternative to the precious stone, yet over time, the specialised artistry became valued by discerning collectors. The almost alchemic transformation of simple substances – water, glue, pigment and plaster — results in a dramatic surface, especially when applied to W1's contemporary shapes. The juxtaposition is a reminder that true craftsmanship is ultimately timeless.

The studio has already created numerous large-scale commissions for many international luxury brands in the hospitality and retail industries including Dalloyau Hong Kong, the Park Hyatt New York, W Hotel Times Square, and seven international Four Seasons Hotel outposts – as well as the Lane Crawford Department stores in Shanghai and Hong Kong and Café Coco in Kuwait.
Inspired both by London's stately Georgian townhouses and the city's vibrant and bustling street life, the tables' names are drawn from the titular postcode. Pictured left: 'Mount'. Right: 'Dean'
INFORMATION
Moss & Lam's 'W1' collection is exclusively available at Avenue Road. For more details, please visit Avenue Road's website (opens in new tab)
Daniel Scheffler is a storyteller for The New York Times and others. He has a travel podcast with iHeart Media called Everywhere (opens in new tab) and a Substack newsletter, Withoutmaps (opens in new tab), where he shares all his wild ways. He lives in New York with his husband and their pup.