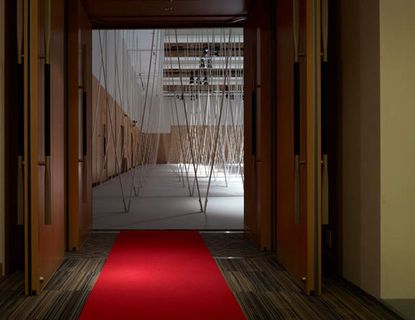 (Image credit: Architect Ryuji Nakamura )
Despite the grey, threatening typhoon skies (which forced one of the main sites to close for a day), Tokyo's largest design event went ahead with the bright, positive disposition we've come to expect from this fair. Composed of two organizations, Tokyo Designers Week and DesignTide Tokyo, each with their own main sites, they also incorporate over 100 satellite shows where artists, designers and architects display their work in shops, galleries and cafés across this vast, buzzing city.
Designer Gwenael Nicolas of Japanese design studio Curiosity gave Tokyo Designers Week's main event, Tent, the theme of 'Environment' and asked designers to tackle the subject both in a broad sense with issues such as global warming but also in a more personal way looking at how it concerns our own mind and body. Besides individual designers experimenting with recycling, the events showed advanced research technologies led by large Japanese companies, and tried to convince train-loving Tokyoites to get on bicycles.
As in previous years, the Container exhibition (where designers are given a shipping cargo container each in which to create an interactive display using elements like light, imagery, sound and aroma) continued to mesmerize the crowds, as did the Student show, which was themed: 'Red List: Endagnered Species'.
Over at DesignTide Tokyo's main site at the Tokyo Midtown Hall, the interior had been designed by architect Ryuji Nakamura, while the theme was 'Bare Room'.