Papercraft: the UK's first major Japanese washi exhibition opens in London
A new exhibition at east London gallery The Proud Archivist celebrates the use of Mino washi paper in contemporary design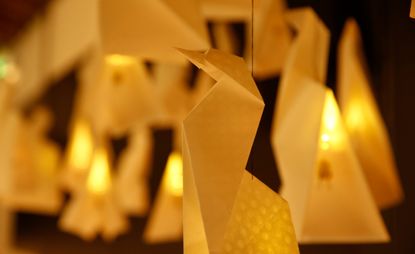 (Image credit: TBC)
Made in Japan since the 8th century, traditional washi paper has been used throughout the ages to make everything from furniture to fashion, to Buddhist scriptures and balloon bombs. Mino, a city located in the Gifu Prefecture in central Japan is renowned for its washi paper production, which has thrived there due to the plentiful supplies of mulberry bark, which the washi craftspeople wash in the clear waters of the city's Nagara and Itadori rivers. In 2014, the paper making techniques (opens in new tab) were added to UNESCO's Intangible Cultural Heritage list.

Popularised in the 20th century thanks to designs such as Isamu (opens in new tab)Noguchi (opens in new tab)'s Akari lamp (opens in new tab) (which incidentally was inspired by the lanterns used on Gifu fishing boats), washi paper is frequently incorporated into contemporary furniture design and is now the focus of a new exhibition at East London gallery, The Proud Archivist (opens in new tab).
'The way that Japanese people think about paper is different,' says the shows organiser Ryoko Mutasono. 'Not just something disposable for note-taking, or the daily read - it exists as a strong material, closer to fabric. The strength and quality of Mino's paper is legendary - and I hope that the exhibition demonstrates some of its possibilities. We wanted to bring this classic Japanese craft to a contemporary setting, in east London, and while the nearby canal waters aren't quite as clear as those in which the paper is made in Mino - we hope we've captured something of the mood.'
The ten-day show is the first major exhibition of Japanese washi paper in the UK and brings together works by Noguchi and modern day designers such as Swiss studio Atelier Oï, among others. As well as shedding light on the history of this ancient craft, the showcase will also provide visitors with the chance to purchase paper products and take part in interactive workshops.
INFORMATION
'Mino Washi from Gifu' is on view until 13 November
ADDRESS
The Proud Archivist
2–10 Hertford Road
London, N1 5SH
VIEW GOOGLE MAPS (opens in new tab)