The Rug Company debuts four remarkable rugs by Alexander McQueen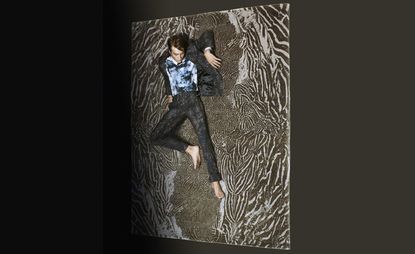 (Image credit: Alexander McQueen)
The Rug Company's latest collaborative effort was three years in the making and involved much toing and froing, but the result is a series of rugs that redefine the form. They also happen to be some of the last designs of Alexander McQueen, the British fashion designer who died earlier this year at the age of 40.

Established in London in 1997, The Rug Company had already collaborated with many leading British designers, from Vivienne Westwood and Paul Smith to Tom Dixon and Ron Arad. But Christopher Sharp, co-founder of The Rug Company, looked to McQueen to push his brand in new directions.

'McQueen was all about craft, history and quality. I really believe he was a genius,' says Sharp. 'We were looking for someone to create a high-end, luxurious product, as we've had many customers requesting unique designs in the finest silk, with money, literally, being no object. I knew McQueen was the man, but it was a year before we had a definitive yes.'

High drama and a gothic sense of beauty were constants in McQueen's work. The 'Bumster' trousers might have made him a household name, but the committed McQueen followers - and there were many - will remember him for the lyrical bird of paradise dresses, the ornate frock coats, the dazzling digital prints and the richly embroidered pieces of his last collection.

His designs played with big ideas - history, nature, sex, death and religion - and his fascination with craft was profound. 'I was astonished when I saw the archive,' says Sharp. 'It was just extraordinary.' (The McQueen brand will continue with Sarah Burton, McQueen's head of womenswear for a decade, as creative director.)

The rug designs are one of a small number of items McQueen put his name to outside of fashion and beauty, and the last. Indeed, they are the last designs that McQueen signed off.

The four-piece series includes a cashmere 'Feathers' rug that drapes like fabric and features a pattern based on a hawk's feather. The wool and silk 'Skull' rug, by contrast, comes with McQueen's most famous motif in a suitably haunting grey design. Perhaps the most lyrical is the 'Hummingbird' design (also available as a cushion), depicting birds in flight across an inky, black background. Originally used in McQueen's spring/summer 2009 collection, the pattern was based on a stop-motion wildlife photograph. It has now been painstakingly recreated on the rug, the detailed weave necessitating no fewer than 300,000 knots per sq m. The birds, in all their subtle colours, seem to hum magically, wings aquiver.

The collection's final piece is the giant two-tone 'Military Brocade', featuring a golden oak leaves border and a central skull from which an Oriental serpent emerges. The design, in hand-knotted wool with raised silk, was taken from an embroidery for a coat in the couturier's 2001 'What a Merry Go Round' show. 'It was the one McQueen wanted in his own apartment,' says Sharp.