The iconic 'Scandia' chair is reissued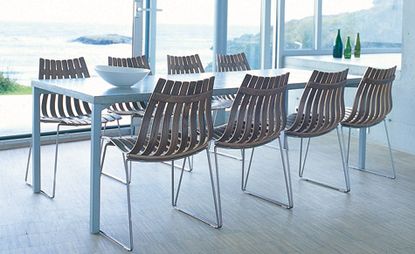 (Image credit: press)
Designing a chair may seem a humble task but creating one that is technologically innovative, stands out from the pack and lasts a lifetime, is certainly not. Norwegian designer Hans Brattrud achieved just that. Half a century after it was first introduced, his 'Scandia' chair is as popular as ever, and has just been relaunched by Norwegian furniture manufacturer, Fjordfiesta, at 100% Design.
Brattrud was born in 1933 and studied at the Oslo National Academy of the Arts, setting up his own design studio at the same time, before later becoming an architect. The designer has a clutch of awards to his name, and the Scandia chair continues to earn him accolades, most recently the Interior Innovation Award 2006 at the IMM Cologne fair. Brattrud pioneered high frequency lamination in Norway in the making of his chair - first introduced in 1960 - which is now the most common production technique in the world. Here he tells about the making of the piece, his inspirations and the Norwegian names of the future.
How do you think the 'Scandia' chair has retained its relevance and popularity over such a long period of time?
The 'Scandia' chairs are of a timeless and carefully thought-out design that doesn't attract too much attention. They fit most interiors - both traditional and modern - and their construction is robust enough to last for a hundred years.
The chair was technologically innovative for its time. How did you strike on the idea of using a high frequency lamination?
I've always enjoyed experimenting with new materials and techniques. The chairs are made with 1mm-thick laminates, and the glued joints need to be hardened to ensure long life. When I first thought of the design in 1955-56, the fastest-hardening glue had a setting time of about three hours. This would not have allowed production on an industrial scale but, at a trade fair in Germany in 1958, I saw that hardening could be done by high-frequency electricity. I immediately realised that this technique would be useful in the production of my Scandia chairs. A clued-up producer bought a generator and we were away!
What have been your greatest influences?
The teachers at the Oslo National Academy of the Arts - the architect Arne Korsmo, Birger Dahl and the interior architect Tormod Alnes. And also the fact that I trained myself as a cabinet maker before becoming a furniture designer.
Who do you think are currently the most interesting new names in Norwegian design?
Without a doubt, Johan Verde. He
has designed some really excellent things in a lot of different fields, such as textiles, glass, ceramics etc. In my view, his designs are of superb form, and demonstrate excellent innovation and creativity. He may have a little way to go in furniture design but it won't surprise me if he comes up trumps there as well.
Receive our daily digest of inspiration, escapism and design stories from around the world direct to your inbox
Malaika Byng is an editor, writer and consultant covering everything from architecture, design and ecology to art and craft. She was online editor for Wallpaper* magazine for three years and more recently editor of Crafts magazine, until she decided to go freelance in 2022. Based in London, she now writes for the Financial Times, Metropolis, Kinfolk and The Plant, among others.