Super Pacific: Maison et Objet announce Rising Asian Talents winners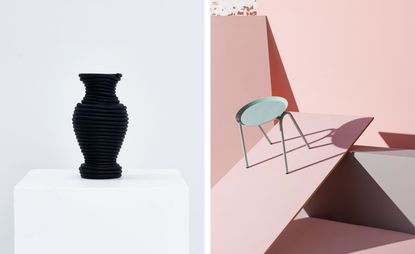 (Image credit: Lab De Stu)
Following the announcement of André Fu as Maison et Objet Asia's Designer of the Year, the institution's next accolade embraces less established stars of the design world. Scouring the Asia-Pacific region for innovation, individualism and panache, this year's winners of the Rising Asian Talents award comprises an assortment of skills spanning embroidery art, fashion-inspired lighting and unusual sculpture.

'Their presentation in Maison et Objet Asia 2016 will reflect the incredible richness and diversity of the regional design scene,' says Regina Chan, director of Asia Pacific at M&O. This year's six winners arrive from Australia, Taiwan, Singapore, the Philippines, Thailand and Japan, all chosen by the Maison team, with the help of a panel of industry curators, designers and journalists.

In a fusion of styles, Australian winner Lab De Stu merges together sculpture and craft with minimalist flair. The Melbourne-based studio was founded by designers Adam Lynch, Dale Hardiman and Andre Hnatojko. Meanwhile, the Taiwanese winner – cross-cultural brand Kimu – combines Scandinavian simplicity with Eastern dexterity. Their innovative framed 'The New Old' light is a statement piece that changes a space with its black wire silhouette.

Of the more embellished, experimental winners, Filipino materialist Stanley Ruiz – now based in New York – realises his patterned works in unusual materials, from concrete and wood speakers to lamps and baskets made of buri (palm reed), leather and metal.

Other winners include Lekker Architects from Singapore (who previously conceived the wonderfully wild Hermès Secret Garden); Ease, a Thai embroidery studio based in Bangkok that produces artful, intricate weaving and 3D acoustic embroidery in geometric and floral prints; and Tokyo-based Chihiro Tanaka who uses his fashion background to create eloquent lighting ranges.
INFORMATION
For more information, visit Maison et Objet's website (opens in new tab)