Still/Life: Harri Koskinen curates a retrospective of Tapio Wirkkala's work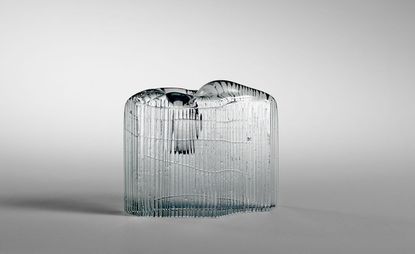 (Image credit: Matti Silvennoinen)
More than just a retrospective, STILL/LIFE – organised by the Tapio Wirkkala Rut Bryk Foundation, in commemoration of the centenary of the birth of Finland's most prominent name in Modern design, and curated by one of the nation's most loved contemporary talents, designer Harri Koskinen – reimagines the master's legacy as a backdrop to today's design.

Koskinen says of him: 'Throughout my own career I have seen him as a charismatic and relentless designer and artist, who had a very wide view of every sector of the design field. It was not just work; it was a way of life.' The exhibition will start a national tour that opens this month at the Korundi House of Culture in Rovaniemi.

The exhibition is in two parts. STILL emphasises Wirkkala's aspiration as an artist; he set no limits on materials or function and blurred the lines between artistic fields, as can be seen in his collection of works from plywood to glass. 'Wirkkala was an aesthetician who wanted to work without letting practical limitations of the production affect the result,' explains Koskinen.

For LIFE, Koskinen researched Wirkkala's interviews and correspondence with friends and colleagues in an attempt to encapsulate his design philosophy, which the master never formally committed to writing. Wirkkala's half-century-long creative journey is told through many of his personal items, including, of course, his ever-present pipe, and his old Leica M3 camera. His rarely shown black and white photography plus drawings, as well as a series of new imagery of his works is reinterpreted by Finnish contemporary artists Susanna Vento, Riikka Kantinkoski, Mikko Ryhänen and alike.
INFORMATION
STILL/LIFE will move on to the Sámi Museum Siida in Lapland next April, and a retrospective of Rut Bryk – the graphic designer, ceramic artist and Wirkkala's wife – will be held at the Espoo Museum of Modern Art in the following month.
ADDRESS
Korundi House of Culture
Lapinkävijäntie 4, 96100 Rovaniemi, Finland
Sámi Museum Siida
Inarintie 46, 99870 Inari, Finland
VIEW GOOGLE MAPS (opens in new tab)