Stefano Pilati's first foray into furniture plays with draping and proportion
Stefano Pilati creates a sculptural debut furniture collection with French interior design brand Pinto Paris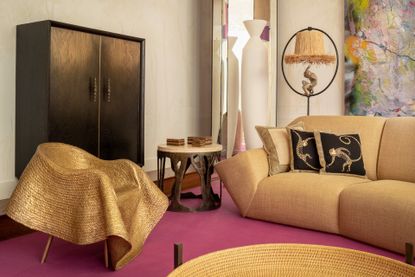 (Image credit: press)
What do you get when you cross textures and silhouettes from a leading fashion designer with a standout French interior architectural design firm? In this case, a visual and tactile delight that is the collaborative brainchild of Stefano Pilati, former Yves Saint Laurent lead designer and founder of fashion brand Random Identities; Fahad Hariri, chair and co-artistic director of Paris-based Pinto; and Pietro Scaglione, Pinto co-artistic director.
Fashion and interior design, Pilati says, have much synergy. 'It is possible to find some affinities across the industrial aspect of fashion design, where it becomes necessary to recall the physics, gravity, proportions, and tensions shared between elements and surfaces. Upholstery, as a craft, is something a fashion designer can understand with a certain familiarity.'
Pilati and Hariri have joined forces to create a striking capsule furniture collection that is simultaneously dramatic, yet effortless, with fabrics 'draped' in clever ways to reveal stimulating geometry and proportions. 'I draped furniture because it was a temporary solution. I had the chance to stay in a house of overwhelmingly interesting volumes. The use of rugs or semi-rigid material made me drape around chairs and other findings in what became evident as a sculptural transformation in their forms; maintaining their original function and better adapting to the rooms and extended exterior due to the natural increase of their dimensions,' Pilati explains.
Take, for instance, the collection's 'Sculpture' armchair – essentially a mould of bronze cast in wax that achieves the appearance of a rattan texture being thrown over the form of a chair, creating the appearance of it being almost suspended in the air as it lands. Pilati explains that this approach was inspired by what he calls his 'gestures', a casual, almost nonchalant technique of draping furniture with fabrics. 'When Fahad [Hariri] saw the "gesture" of how I create objects with fabric, he picked up on it. Fahad gave my pieces a real identity and a real life. He immortalised the "gesture" of draping a water hyacinth rug over a rattan armchair by having it conceived through lost-wax bronze casting – a technique famously used by Auguste Rodin when he was creating his sculptures.'
The look achieves visual drama despite the more rounded, less stark geometry Pinto has been known for in many of its room designs. According to Hariri, this is not a one-off occurrence for the brand. 'This collaboration felt like the opportunity to mark a decisive turning point in the Pinto editions.'
The approach to rounder, less angular geometry can also be seen in the collection's sofa, a 350cm long sand-colored form, appropriately called 'Dune', which appears to be part envelope, part origami. Pilati's use of rounded folds for the arms, and rounded-off cushions and back, along with the warm, neutral palette create a sumptuous look that is, on the one hand, dramatic, yet on the other, quite approachable.
'The pieces [in the collection] are all conceived to be in spaces where indoor and outdoor coexist seamlessly,' Pilati says. The prototype is crafted on a base of solid oak and uses springs under high-density foam, which is covered in a cotton toile produced by French textile house Maison Pierre Frey. The upholstery can be customised in different colours and textures to suit individual tastes, although the Pinto team intend to limit production to 30 units.
INFORMATION