'Squat #1' by Nilufar Gallery, Dimore Studio and Balice Hertling, Paris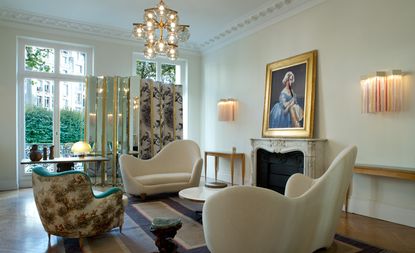 (Image credit: TBC)
Architecture, design and art have a natural inclination to live together. With this in mind, three European studios involved with each of these disciplines are bunking down together in Paris throughout the four weeks of Foire Internationale d'Art Contemporain (FIAC).

The flat - 350sq m above Avenue Victor Hugo - showcases furnishings from Nilufar Gallery's distinguished stable of designers, in close quarters with artwork from Paris's Balice Hertling and architectural design from Milan's Dimore Studio. What the hosts call an 'artistic occupation' seeks to challenge boundaries - not unlike your average flatmate. In this way the name of the exhibit, 'Squat #1' is apropos.

Far from being a sterile set of untouchable, museum-quality work, the exhibition will be an open platform, as social and hands on as cocktails in the parlour. If it's a success, Nina Yashar of Milan's Nilufar Gallery plans to take the concept on the road, hiring similar flats in cities across Europe in the mould of fashion brands that stage their runway shows in obscure venues to cast a new light on the product.

To drive home the idea in Paris, she's brought in conversation pieces by Gaetano Pesce, Gio Ponti and Martino Gamper that cross eras and styles. They're overlooked by contemporary and historical works by artists including Kerstin Braetsch, Oscar Tuazon and Samuel Richardot. The domestic environment by the team at Dimore itself embraces art and design in its execution.
ADDRESS
186, Avenue Victor Hugo
75016
Paris