Marble masterpieces: Snedker Studio debuts new furniture collection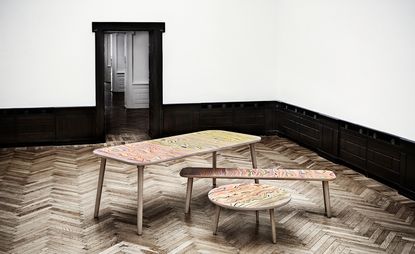 (Image credit: Snedker Studios)
Found on the edge of Copenhagen's coastline is a creative art studio consciously choosing to disregard the notion of limits as it pertains to form and material. Designer Pernille Snedker Hansen first made her mark on the industry with the creation of her marbleised patterns, which she boldly parlayed onto parquet floors (leaving nearly everyone halted in their tracks). The demand for her fiercely hued designs spread like wildfire, and Hansen swiftly made the transition to works on paper where she wowed again with loose interpretations of psychedelic tree rings and other abstracts. Now, Snedker Studios is set to debut a highly anticipated furniture collection, and because one line of furnishings simply wouldn't be enough, Hansen created distinct surfaces conveyed on two entirely different furniture frames.

Let's start with the 'Never the Same' collection: within this series Hansen's marbleised motif blankets the surface of naked blonde wood tables. Each piece is finished with soft round edges courtesy of Danish carpenter Karsten Lauritzen, who Hansen enlisted for the project. Due to the nature of this process no two tables are exactly alike – hence the name. 'My works on wood are inspired by the natural patterns inherent in the grain,' notes the Dutch designer. 'I want to celebrate its beauty and make each piece stand out independently.'

Then there's the 'Transition Tables' that lure the modern-minded enthusiast. 'I wanted their frame to starkly contrast the wood,' explains Hansen. 'The crisp white lines exude a sleek and tight simplicity against the vibrating complexity of the printed wood.' With nature as her constant muse, Hansen retains wood as her canvas, but here she experiments with a more modern shape met by a vividly pigmented wave-like print atop.

'Interiors are places where we feel most comfortable expressing who we are,' states Hansen. 'Furniture design is a way of entering into this world and making a mark on it – I hope my work helps people find beauty in their everyday.' Leaving her marbleised fingerprint on yet another medium, Hansen continues to prove that surface design knows no boundaries. 'I think these days there is no need to fit into one category,' she says. 'My works are rare and exclusive because of my limited production and time-consuming, hands-on methods.'
Designer Pernille Snedker Hansen made her mark on the industry with the creation of her marbleised patterns, which she boldly parlayed onto parquet floors.
The demand for her fiercely hued designs spread like wildfire, and Hansen swiftly made the transition to works on paper where she wowed again with loose interpretations of psychedelic tree rings and other abstracts.
The 'Transition Tables' (pictured) lure the modern-minded aesthete. 'I wanted their frame to starkly contrast the wood,' explains Hansen. 'The crisp white lines exude a sleek and tight simplicity against the vibrating complexity of the printed wood'.
'Interiors are places where we feel most comfortable expressing who we are,' states Hansen. 'Furniture design is a way of entering into this world and making a mark on it – I hope my work helps people find beauty in their everyday'.
Leaving her marbleised fingerprint on yet another medium, Hansen continues to prove that surface design knows no boundaries.
INFORMATION
For more information, visist Snedker Studios website (opens in new tab)

Photography courtesy Snedker Studios