Urban slumberland: Blond & Bieber create portable bed-backpack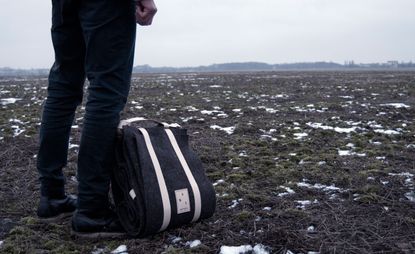 (Image credit: Lukas Olfe)
To celebrate the freedom of sleep, Berlin-based design studio Blond & Bieber created Sleep With Us, a woolen backpack/bed that can be rolled out at your leisure when the urge strikes you. 'We picture a modern urban nomad traveling through the city, working as well as sleeping where it is necessary,' says Rasa Weber, who leads the studio along with Essi Johanna Glomb. Through their research, which included interviews with the Sleep Academy of Berlin (Schlafakademie Berlin), the award-winning studio discovered that from libraries to cafes to offices, people sleep in public places – but because of the stigma of laziness and inefficiency attached to this practice, people attempt to keep it hidden. 'The backpack is a form of "hiding" the bed,' says Weber.

An object in between furniture and clothing, Sleep With Us was inspired by the kepenek – a traditional shepherd's coat made from an extremely resistant felt that allows the shepherds to sleep on the spot. Currently only produced in a limited edition, the robust bed is made using local wool from German breeds of sheep. The leather straps are sourced from German leather manufacturers who hand sort and cut the leather.

Formed in 2012, Blond & Bieber is behind the award-winning Algaemy project, which uses microalgae in textile printing.
INFORMATION
For more information, visit Blond & Bieber's website (opens in new tab)
Photography: Lukas Olfe. Courtesy of Blond & Bieber