'Silver Speaks': an intimate show of precious contemporary works at the V&A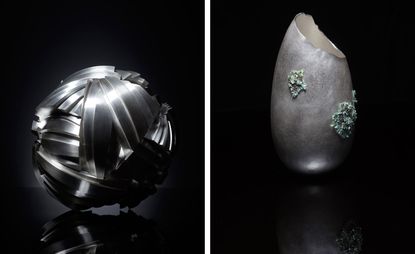 (Image credit: Abigail Brown)
Nestled between the 'Personal Pleasures' and 'Modernism' sections of the vast silver collections at the Victoria and Albert Museum is a new contemporary range of silver works. In a show titled 'Silver Speaks', the group of specially commissioned silverware is giving the precious metal a new lease of life.

'People think the art of silversmiths is old fashioned,' explains curator Corinne Julius. Hand selecting the pieces herself, Julius scoured moquettes, sketches and outlines for prospective designs by members of Contemporary British Silversmiths, whittling down a list of 18 practitioners for display at the museum. 'I was interested in the process, how these people think,' she continues. The show delves into the intricate and meticulous manufacturing techniques of the chosen designers – from 3D printing to fusing construction and patination. Subsequently, the display reignites the appreciation for silver craft in the new age.

The pieces were intimately displayed in a set by sculptural designer and artist Marcin Rusak. From the line up, Mary Ann Simmons and Juliette Bigley's geometrical sculptures particularly stood out. The RCA-trained Simmons' multi-side vessel is formed from a flat sheet of Britannia silver, while London-based Bigley's conceptual fruit bowls plays between lines and circles.

Innovative techniques were found in Hamish Dobbie's decorative Growth Vase. Inspired by the geological formations of Fingal's Cave on the Scottish island of Staffa, the creation started out as a series of wax hexagons (which are also on display). Dobbie then turned these into a vast range of 3D printed silver hexagons, gradually soldered together to build the sculpture.

Some of show's most striking pieces emerge as if made from another material. Alistair McCallum's Silver Vase with a Mokume Gane Rim engages with a Japanese metalworking technique that fuses the alloys, appearing like grains inside a branch. Meanwhile, Hazel Thorn's Wrapped Birch Fruit Bowl utilises new procedures in gilding metal to create a fluid porous pattern.

Rajesh Gogna explored more historical techniques. Using hammering and fabrication he moulded sterling silver into an abstract one-dimensional teapot and cup concept titled Retro-ism Ice Tea for One.

'Silversmith craft is a lonely profession,' Julius muses about each of the designer's solo journeys – all of which certainly give silver a moment to speak for itself.
INFORMATION
'Silver Speaks: Idea to Object' is on view until 31 January 2017. For more information, visit the 'Silver Speaks' website (opens in new tab)
ADDRESS
Victoria and Albert Museum
Cromwell Road
London, SW7 2RL
View Google Maps (opens in new tab)