'Bloom at Night': Shona Heath casts her spell on Alexander McQueen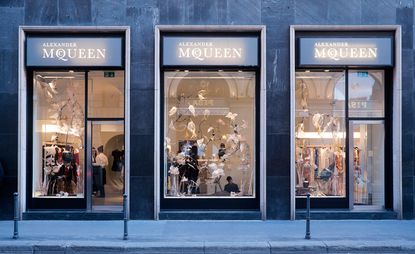 (Image credit: TBC)
Magic realism is one of the many strengths of the famed fashion house of Alexander McQueen, and at this year's Salone del Mobile that symbolism was brought to life by leading set designer Shona Heath.

Created to celebrate this year's edition of the world's foremost furniture fair, the 'Bloom at Night' window installation featured hand-crafted, night blooming flowers, hummingbirds, bees and butterflies, all suspended in mid-air as if charmed or bewitched, with a background of similarly enchanted, climbing tree branches and vines.

Under the spell of McQueen's new eponymous parfum – exclusively launched in Italy on 14 April – the fragrance is as beguiling as the installation which it inspired. 'I wanted this fragrance to come from night flowers, the kind that exude an eternal freshness once the day is gone,' explains McQueen creative director Sarah Burton. And that it does. Sambac jasmine, tuberose and ylang-ylang essences meld together to create a scent that is at once powerful and delicate, sweet and sultry, and yet decidedly dark and powerful; cues made perfectly clear by Heath's entrancing display.

As is now tradition, Wallpaper* partnered with McQueen and gathered Salone del Mobile's most fashionable guests at the via Pietro Verri boutique to celebrate the creative display with a few drinks, before disappearing into the night, like Heath's fantastical set threatens to do.