Shigeru Ban designs woven pavilion for Hermès' Salone del Mobile debut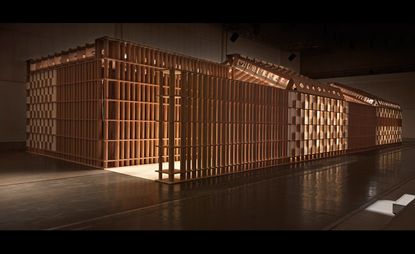 (Image credit: TBC)
Hermès has appeared at the Salone del Mobile for the first time ever, signalling a definitive entrance back into the furniture market after a considerable hiatus away. Launching its brand new contemporary interiors collection in Milan's La Pelota in via Palermo, the luxury brand made a statement of serious intent by the headline commissioning of architects Shigeru Ban and his partner Jean de Gastines to create the specially conceived space.

Ban and de Gastines, who worked together on the Centre Pompidou-Metz, were a natural choice for Hermès' creative director Pierre-Alexis Dumas, and Pavillion Hermès, structured with cardboard tubes woven with paper, is essentially a nomadic structure with a modular core. The interior space has been constructed to be intimate, with ceiling height and area size varying from room to room.

Simple and minimally-embellished, the space - rather than being an overwhelming display of architectural might - works to reflect on the craft on show, such as eight pieces originally designed by Jean-Michel Frank in the 1920s which were reissued by the house in November last year.

Also making their debut was a furniture set for the office and dining room by Enzo Mari, and a line of living room furniture by Antonio Citterio. Denis Montel, artistic director of long-time Hermès collaborator and interior agency RDAI, has also co-designed the collection's signature chair with Eric Benqué, while also on show were furnishing fabrics and wallpapers brought out through Hermes' joint venture with Italian textile firm, Dedar.