Que sera, Serra: a sophisticated cannabis dispensary opens in Portland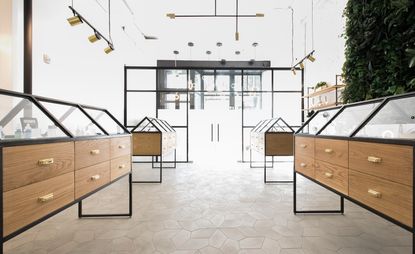 (Image credit: TBC)
Newly installed in the storefront of an 1889 historic-landmarked building, along a quiet stretch of cobblestone streets in the Old Town Chinatown district of Portland, Oregon, you will find Serra, the most sophisticated cannabis dispensary in the city, if not the country. With its proud Grecian columns restored to their former glory (having paid respects to the original architecture and local history), Serra distinguishes itself from the 200+ medical and 'recreational' retailers in this makers' Mecca by taking a decidedly artistic, rather than artisanal, direction.

But this authenticity, the very facet required of such a painstaking renovation, proves disorienting; the building offers no telltale green crosses or green leaves – despite the fact that 'serra' means 'greenhouse' in Italian. Further, the facade is painted a shade called 'Black Beauty,' and making an even bolder stroke, its sign is blue (the eternally optimistic shade of Klein Blue is something of a brand signature).
Serra celebrates the era of neighborhood apothecaries

Bannered across the laser-cut brass inlay of the tiled entry, the suitably cheeky and cheerful legend 'Quality Drugs' celebrates the bygone era of friendly neighborhood apothecaries. It was a vibrant time for cannabis in the United States as well, 40 years prior to Prohibition, and this landmarked site provides a footbridge to Portland's future.

Stepping forward in time, the transformation is stunning: airy and light-infused, the massive space pulls the eye upward and then takes full advantage of its 16-ft ceilings by combining two formerly identical storefronts into one long, graceful U-shaped arc. There are several geometric counterpoints at work and play here, most notably Matthew McCormick's multi-ringed neon installation, which casts a second layer of warm light throughout the space.

Freestanding glasshouse-shaped cases hold accessories

Next, Serra literally and figuratively elevates the experience by positioning a group of freestanding glasshouse-shaped cases at chest level, presenting a curation of up-and-coming lines, whether glass, porcelain, metals or jewellery, as individual collections. The message is unabashedly simple: these objects deserve closer inspection, especially provided a 360-degree perspective.

Today, with three stores opened since July 2016, another school of thought claims the company was actually named after Richard Serra, the revered American minimalist sculptor. Not surprisingly, Serra's in-house creative team will neither confirm nor deny such speculation. After all, as they see it, green is in the eye of the beholder; a 21st century brand philosophy that stands to challenge both the cannabis and art/design worlds. Then again, at Serra, same difference.
INFORMATION
For more information, visit the Serra website
ADDRESS
Serra
220 SW 1st Avenue
Portland OR 97204