In memoriam: Ruth Aram (1966 - 2018)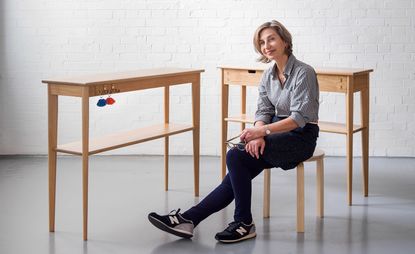 (Image credit: Paul Raeside)
Ruth Aram, director of Aram Store, who died of cancer last week aged 52 was a wonderful role model for everyone in the design world. A qualified architect, she was destined from a young age to step into her father Zeev's shoes and take the family business forward. Ruth was just getting into her stride, forging collaborations with fresh young talents, hosting pioneering exhibitions at the store and packing her twins off to university, when last July, she collapsed at work. A brain tumour was the cause.
Ruth and I were neighbours for five years. Every morning, she would whizz off to work on her Vespa. She knew her father's boots would be hard to fill, but she rose to the challenge. Zeev founded Aram in 1963 and over the decades, brought a fleet of designers to London, among them Achille Castiglioni, Marcel Breuer and Le Corbusier. Ruth started working with her father in 1988 on his AD Graduate Exhibition 88, and over the decades she displayed similar creative flair, giving young designers such as Bethan Laura Wood and Lola Lely a platform, while her brother Daniel took care of the business side.
Before joining the family business, Ruth qualified as a landscape architect and worked at the Building Design Partnership and IKEA. She brought design cool to Hampstead in 1991 when she opened the Ruth Aram Shop (RAS), In 2000, RAS merged into Aram Designs becoming the Aram Store. It was always a family affair.
'Ruth had that beaming smile and always had time for conversation that went beyond the business,' recalls Daniel Charny, a founding curator of The Aram Gallery and design professor at Kingston University. 'Zeev created it, but Ruth enhanced the social side of the enterprise with an incredible generosity towards the young spirit of design.'
That generosity went well beyond work. Ruth was community-minded, involved with local schools, a thoughtful, friendly neighbour. Sometimes, we would walk our terriers Larry and Eddie on Hampstead Heath and gossip about the neighbourhood, the design world, the challenges of retail and publishing, the children. And I would always compliment her on her jewellery, or shoes, or some item of clothing. She had such style. At her 50th fancy dress party, she dressed as a zombie bride and said it was the best party of her life. At her last Christmas party – she held lots of parties – she was still fabulous in a blue wig, the chemo having taken all her hair.
Her children Isabel, Jack and Mimi hung close as she made light of getting lost in Ubers as her memory faded. Her architect husband David Walker cared for her at home as long as he could. Right until the end, on increasingly fleeting outings, she would try and muster that infectious smile. She will be hugely missed.
Emma O'Kelly is a contributing editor at Wallpaper*. She joined the magazine on issue 4 as news editor and since since then has worked in full and part time roles across many editorial departments. She is a freelance journalist based in London and works for a range of titles from Condé Nast Traveller to The Telegraph. She is currently working on a book about Scandinavian sauna culture and is renovating a mid century house in the Italian Lakes.