Reframed and renamed: Niek Pulles and Sebastian Herkner interpret iconic Danish designs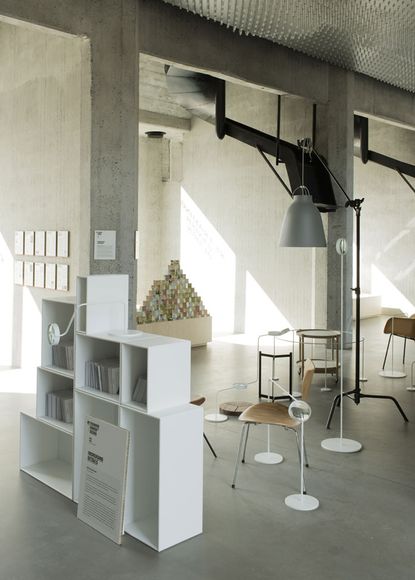 (Image credit: TBC)
Since its 20th century boom, Danish design has reached heady heights; its Bauhaus-inspired, functional and simplistic aesthetic placing it high on a pedastal the world over. In celebration, online design platform Danish and and magazine Frame have invited two international designers - Sebastian Herkner (opens in new tab) and Niek Pulles (opens in new tab) - to 'reframe' and update ten iconic Danish furniture pieces.

'Re-framing Danish Design' takes Danish classics - Fritz Hansen (opens in new tab)'s 7 series chair by Arne Jacobsen (opens in new tab) and Brdr. Krüger (opens in new tab)'s Tray Table by Hans Bølling, among others - and presents Pulles and Herkner's reinterpretations of them.

Taking a minimal and considered approach, German designer Herkner focused on the original designs; looking to the innate personality of each piece with the clean and condensed approach he regularly employs for Danish brands, like Gubi. 'We found that it was necessary to understand the story behind the design and the approach of each designer,' he explained. 'For the last couple of months we have surrounded ourselves with the products.'

The result, in some cases, is a complete deconstruction; boiling down each item down to its very essense. Carl Hansen (opens in new tab)'s Safari Chair, for instance, is carefully broken down and renamed 'Poetry'. (Each design is renamed after the characteristics he believes the Danish design represent.) A magnifying glass motif is used throughout, bringing into focus the most interesting details of each piece.

Where Herkner went back to basics, Pulles embellishes and adorns. The Amsterdam-based designer's organic approach was inspired by the human attributes the original designs communicated to him - in bright colours and multiple materials. For Pulles the Safari Chair becomes 'Klamboe Chair - Essential On A Safari', bedecked in a mosquito net and pyramid foam seat. 'The look of a mosquito net became my inspiration for this,' he says, 'as well as the imprint the net leaves on the body when sitting naked.'

The two designers couldn't be further apart aesthetically, but their common starting point makes them all the more beguiling.
ADDRESS
The Silo
Ndr. Frihavnsgade 77
2100 København Ø
Copenhagen
VIEW GOOGLE MAPS (opens in new tab)