Nendo and Fritz Hansen embrace design synergy with new launch at Salone del Mobile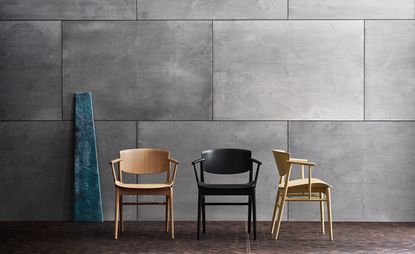 (Image credit: TBC)
When design studio Nendo teamed up with manufacturer Fritz Hansen, they found they were speaking the same design language.

Set to launch at the Salone del Mobile (17-22 April), the N01 dining chair is a perfect meeting of Japanese and Danish design sensibilities. Its designer, Tokyo-based studio Nendo, worked closely with Copenhagen-based Fritz Hansen to create a strong chair with a lightweight appearance.

A gently curved seat and back panel are crafted from nine layers of veneer while the frame, with its subtle incline that embraces the body, is made from solid wood.

Remarkably, although the Danish brand is renowned for its expertise in plywood moulding (some of its most famous chairs such as the Ant and Series7 use the technique) N01 is the Danish brand's first solid wood chair since the Grand Prix chair by Arne Jacobsen in 1957.

'It was exciting to learn that,' enthuses Oki Sato, founder of Nendo. 'A wooden chair is not an easy product for a designer to make. It is one of the most difficult and one's personal mentality or philosophy can be expressed through it. Our goal was to finalise a chair which is contemporary, yet maintains the traditional and historical feel of the brand.'

Every time the Nendo team visited Fritz Hansen's workshop in Belgium – which was every month in the final stages – a new prototype was produced. Uncompromising, Nendo reviewed and refined the design at every stage before arriving at the perfect balance of strength and comfort.
'This productive process of product development was one of the highlights of my 15-year long career as a designer,' reflects Sato. 'It truly was a collaborative process between Fritz Hansen and us. As a result, I do not remember much about the first brief, and I am not even sure if I have actually designed the chair; I feel that we (Nendo and Fritz Hansen) made this chair together as a team.'

To create its appearance of lightness, the brand's standard production processes had to be challenged. Ordinarily, the joint where the frame and shell meet is thickened to increase strength, which often results in an impression of heaviness. To prevent this, the teams worked together to create a joint that made the frame and shell appear as if they were touching as little as possible.

'The difficulty with a wooden chair is that even a small change of size – for example even less than 1mm – can greatly change its appearance and level of seating comfort,' explains Sato. 'By changing the shape of the legs or the arms from that of a column to an ellipse, or by narrowing down the edge, or by giving a slight roundness or curve to it, the chair can be given a totally different character.'

The final design is comprised of 23 parts made from a mix of solid wood and veneer. Each piece crafted industrially at a family-owned wood manufacturer in Belgium founded 1924, before being assembled by hand at Fritz Hansen's Belgium workshop. Its puzzle-like assembly ensures a seamless construction with even the smallest inaccuracies causing the production to start over.

'If you sit on it, you will notice that this is a Fritz Hansen chair,' concludes Sato. If you live with it, you will realise that this is pure Japanese design.
INFORMATION
For more information, visit the Nendo website (opens in new tab) and Fritz Hansen website (opens in new tab)