Woven narratives: Raf Simons and Kvadrat team up on a new textile collection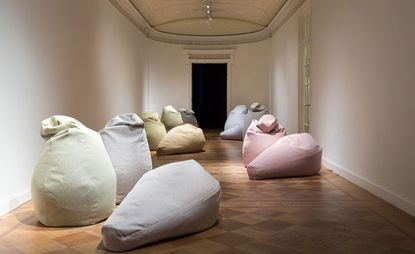 (Image credit: TBC)
Everything Raf Simons touches turns cool. The Belgian-born fashion designer is a household name among interior designers and sneakerheads alike (not to mention the slim overlap of that sartorial Venn diagram), having collaborated and worked with brands like Adidas, Jil Sander, Christian Dior and Calvin Klein to create everything from footwear to haute couture.

Now, Simons, currently the chief creative officer of Calvin Klein, has just unveiled another collection – a line of textiles with Kvadrat. The set, which debuted earlier this week, marks Simons' fourth collaboration with the European textile manufacturer.
Pointillism was source of creative stimulus for this collection. Taking cues from impressionist and post-impressionist masters such as Georges Seurat, Paul Signac and Vincent van Gogh, the designer plucked muted blues, yellows and pinks from the palettes of 19th century painters. Taking form as velour and mohair swaths, these colours were featured alongside Simons' signature primary blues and reds, resulting in unexpected combinations.

'I was fascinated by how the colouration and weaving processes in fashion textiles don't have the same limitations as those of furnishing textiles,' says Simons. 'Working with Kvadrat, we've been translating the subtle colouration and texture that you'd find perhaps in a tweed or bouclé into textiles suitable for use in furniture... with almost a painterly impact.'

For their global launch, Kvadrat upholstered Noguchi 'Freeform' sofas and ottomans, posing a stark contrast to their surrounding setting, inside the classical environs of the National Academy of Design in New York.
INFORMATION
For more information, visit the Kvadrat / Raf Simons website