Prix Émile Hermès Design Award 2011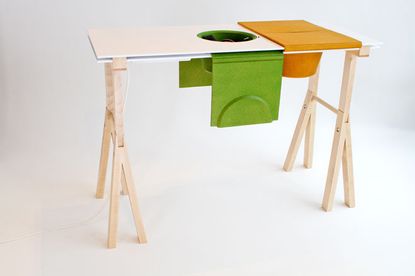 (Image credit: Prix Émile Hermès)
Most designers and manufacturers will tell you that their goal is to make the world a more beautiful place. Some try to achieve this in a responsible manner, using sustainable materials and fair practices. But very few are committed to spreading their wealth to young designers with bright ideas on how to combine these twin aims. Hermès (opens in new tab) has become one of this rare breed, thanks to its triennial Prix Émile Hermès (opens in new tab).
Launched in 2008 and named after the Hermès heir who took charge of the company in 1921, the award gives a leg up to aspiring designers operating over a range of disciplines, from industrial design to architecture. Recently, Hermès added an eco mandate to the award, so 2011 brings us a new crop of environmentally conscious winners - each responding to this year's theme, 'Heat, me-heat, re-heat', with an innovative but practical exploration of heat use and conservation.
At the awards ceremony, head judge Toyo Ito (opens in new tab) and Pierre-Alexis Dumas, president of the Fondation d'entreprise Hermès, granted first prize (and 50,000 euros) to Arnaud le Cat, Esther Bacot and Luther Quenum of French design collective Unqui (opens in new tab) for a low-energy cooktop they call Shelved Cooking. Inspired by the Norwegian tradition of slow-cooking, the ergonomic plywood-and-plastic system represents an economical, energy-efficient solution for casseroles and stews.
The second and third-prize winners both presented space heaters, though wildly different in form and function. Germany's Daniel Abendroth (opens in new tab) and Andreas Meinhardt came second with H-Agent, a mobile heater that stores excess heat and redistributes it to cooler areas. Jarl Fernaeus (opens in new tab) of Sweden followed with Ecojoe, a wood-burning stove that uses remarkably little wood.
The winning entries, plus demos of how to use the projects from the 12 finalists, can be viewed on the Prix Émile Hermès interactive website (opens in new tab). Hopefuls for the 2014 prize should find plenty of inspiration.