A new Paris show explores artisan metal craft through a contemporary design lens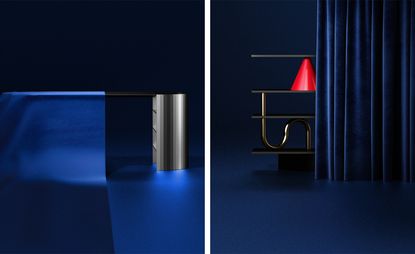 (Image credit: press)
Varennes-Vauzelles-based Atelier François Pouenat is a family company built on metalwork skills passed down through five generations. Now led by François Pouenat, the brand continues to tap into its alloy heritage, offering outstanding quality in its ranges, which run the gamut from door handles to windows

In 2012, the artisan workshop recognised the talent of Paris-based studio, Pool. 'I am an avid admirer of Léa Padovani and Sébastien Kieffer's work,' says François Pouenat of the duo who formed Pool in 2010. 'Their professionalism is indisputable, and I appreciate their unwavering standards.' What ensued is a sculptural collection including a table, suspended light and vase.
That wasn't the end of Pool's collaboration with the heritage brand, they have since overhauled the branding, including graphics and visual identity. 'François is a true listener and lover of design. He and his team have a huge love for what they do.' says Padovani and Kieffer of what makes the atelier so unique. 'This is why they all followed us on this journey, and it was not [always] easy, but they never say "this is not possible," they find solutions.'

For their latest collaborative endeavour, they have invited three other designers to take part in a show at Gallery Joyce, coinciding with Maison et Objet (18 – 22 January). Hosted by Atelier François Pouenat and art directed by Pool, the collection is titled 'Serie 01' and includes eight pieces by Paul Loebach, Fredrick Paulsen, Fabien Cappello and Pool themselves.
The exhibition took three years to put together, and showcases how contemporary designer vision can be bought to life by the metal atelier. Mexico City-based Cappello explores the sculptural sides of steel, copper and aluminium, weaving this into metal's functionality by building a stool that incorporates a footrest. Meanwhile Stockholm-based Paulsen used fundamental tubes for colour experiments with tinted steel for his 'Ror' bench and brushed brass for the 'Ror' coffee table.
In this way, the endless possibilities of steel, brass, aluminium and more is explored in the collection. Pool were keen to unearth new perspectives of François' work by choosing these young designers from across the globe. They express a joy for collaboration too, and how they hope for a second series, 'we love to put people together.'
INFORMATION
'Serie 01' is on view until 30 January. For more information, visit the Gallery Joyce website
ADDRESS
Joyce Art Gallery
168 Galerie de Valois
75001 Paris