New Paris gallery Maison Dentsu explores eccentricity, marble and more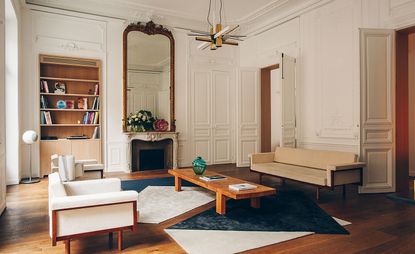 (Image credit: Photography: Matthieu Salvaing)
A hybrid of a gallery, think tank and event space, the newly-opened Maison Dentsu has its large windows facing the Louvre. The furnishings, hand-picked by artistic director Thomas Erber, boasts some Traîneau chairs originally designed in 1976 for the Centre Pompidou, and massive, minimalist vintage desks from the French National Library.

During Paris Design Week, Maison Dentsu presented its first exhibition 'Marbré(e)'. The title is an old French way to describe a joyfully eccentric person, and works range from highly geometric furniture by Pierre Gonalons to Vincent Loiret's funky lamp that stands on two tungsten bulbs like on two paws.

All pieces are made of marble – except for the tongue-in-cheek contribution by Mathias Kiss, a series of marble-patterned wallpapers dressing the doorways. A mix of established and emerging names were chosen for the showcase, from interior architect Tristan Auer who presents a one-off Carrara chair to designer Florence Louisy's thin curved mirror in black Belgian marble.
When asked why marble became the unifier for their inaugural exhibition, Erber gives a threefold response. First of all, marble is such a rare material that is almost on the verge of extinction. And, although the designers could approach it with a grain of playfulness, make no mistake: this material is extremely demanding.

A combination of singularity, eccentricity and expertise resonates with the mission of Maison Dentsu: it plans to actively participate in the culture of Parisian life. Intended as the first of its kind within Dentsu Aegis Network – the world's fourth biggest communication group that originated in Japan and is now present in 145 countries – it is run by a multifaceted team. Included is long-time explorer of culture and lifestyle trends Thomas Erber; expert in entertainment and luxury Alexandre Sap, plus a number of Dentsu's specialists in strategy, content creation, and more.
Maison Dentsu wants to build bridges between the usually disconnected domains, skills and passions, thus giving birth to more ambitious projects,' says Olivier Sebag, the Managing Director at Dentsu Aegis Network and one of the masterminds behind the project. He sees cross-domain work as a winning strategy for everyone involved – from emerging artists striving for visibility to brands trying to reinvent themselves and better connect with their customers. 'With these new bridges all of us will be able to develop our new virtuous cycles.'
INFORMATION
maison-objet.com (opens in new tab)